2011 California's Best Getaway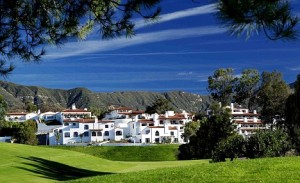 The Ojai Valley Inn & Spa is a true luxury resort and has earned a Triple A 5-star designation. That puts the resort in a pretty exclusive club because only a few resorts in California have achieved that status.
"As a golfer I really appreciate their great championship course," writes Michael Baker from Santa Barbara. " Their spa is incredible for my wife, and the kids love Camp Ojai! Plus there are great hiking and biking trails and the cute town of Ojai is so charming."
Sydney, Australia resident Mark Coyne remembers the quality service. "The staff were absolutely fantastic and could not do enough for us.  I tried the spa for some exercise, massage and jacuzzi and came out floating in the clouds.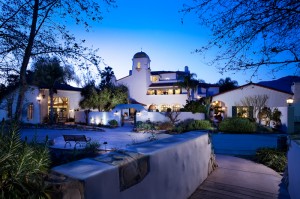 The Monday night footy at the pub was great with fantastic buffalo wings." He recalled how the resort's general manager's wife volunteered to take his wife shopping at the nearby premium outlets.
Jodie Brescia of Alamo Bay wrote that she and her husband are empty-nesters always looking for unique getaways. They have lived in California 30 years and had never heard about Ojai. "We just couldn't believe why we hadn't heard about this place before. The white washed buildings surrounded by a brilliant green golf course took our breath away. This is exactly the atmosphere we were looking for," she wrote.
"From the valet staff to the reception, the check-in service was impeccable. Just when we thought it couldn't get better, we open our room door.  WOW…..it was the most beautifully designed, spacious hotel room we'd ever stayed in (and we've stayed in many 5 star resorts)."
Kareen O'Bryan recently moved to Ojai and stayed at the inn for a few weeks while waiting for her new house to be ready. "The staff was fabulous, our room was gorgeous and the whole property was spectacular.  There was lots to do for the kids, my husband loved the golf course and I could not go past the spa.  It is only a short drive to Santa Barbara and the biggest outlet shops I have ever seen in Camarillo."
Categories: Abacos, California, USA
Tags: California, Central California, El Capitan, etraveltrips, etraveltrips.com.Travel, Facebook, Horsetail Fall (Yosemite), travel, Waterfall, Yosemite Firefall, Yosemite National Park