2011 California's Best Getaway
For more information on Aurora Park Cottages, call 1-877-942-7700.
Rankin Ranch, located 40 miles from Bakersfield, California and near the famous Kern River Valley recreation area, is what used to be called a dude ranch. Nowadays it's called a guest ranch and guests are treated pretty darn well at Rankin Ranch, where 75 percent of the clientele are people who have stayed at the ranch before and just keep coming back for more.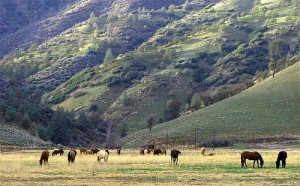 It's a family-run operation, with Bill Rankin and his kids rolling out the red carpet – or the hay, as it were – to welcome guests of all stripes and persuasions. Some are "horse people" and others just revel in the atmosphere that includes some of the best scenery in California. The meadows and pine forests are picture-perfect and there are plenty of recreational opportunities in the immediate area.
For guests, you can be as busy or laid-back as you want it to be. It's easy to stay busy with daily horseback rides, hiking, swimming and lots of social activities that go along with the home-cooked meals. You won't be sitting in your room watching TV because there is no TV.
Los Angeles resident Shawn Harrington wrote to tell us that the Rankin Ranch offers the "friendliest staff on earth" and that the Rankins immediately make you feel like family. "It's the best food imaginable and offers the rest and relaxation we all need now and then. Once you arrive, you don't want to leave."
Teresa Phillips wrote that Rankin Ranch is her family's favorite getaway and, again, pointed out how the Rankins treat their guests like family. "It's the best hospitality ever!!! And the best food too!!!"
For more information on Rankin Ranch, phone (661) 867-2511.
Categories: Abacos, California, USA
Tags: California, Central California, El Capitan, etraveltrips, etraveltrips.com.Travel, Facebook, Horsetail Fall (Yosemite), travel, Waterfall, Yosemite Firefall, Yosemite National Park