The Milestone Hotel London, UK
By September the following year the Milestone had been fully restored to its original architectural splendor as a unique five-star hotel with 45 luxurious bedrooms, 12 sumptuous suites and 6 two bedroom apartments: the benefits of its superb location were of course ever-present, with many of the rooms overlooking Kensington Gardens. Over the subsequent years the Milestone has been recognized with numerous awards and accolades, and today ranks as one of the best hotels in the world.
Guest rooms
Each guest room at The Milestone is a work of art – a grand statement of color and style – dressed with fine fabrics, fresh flowers, antique furnishings, and rare artworks.
No two rooms or suites are alike, yet each of our 44 deluxe guest rooms, 12 luxury suites, and six long-stay apartments casts its own spell. Some are richly decorated for a more intimate, inward-looking mood; others make the most of their stunning views over Kensington Palace and Gardens. At The Milestone, every room is an outstanding example of romantic elegance, comfort, and luxury.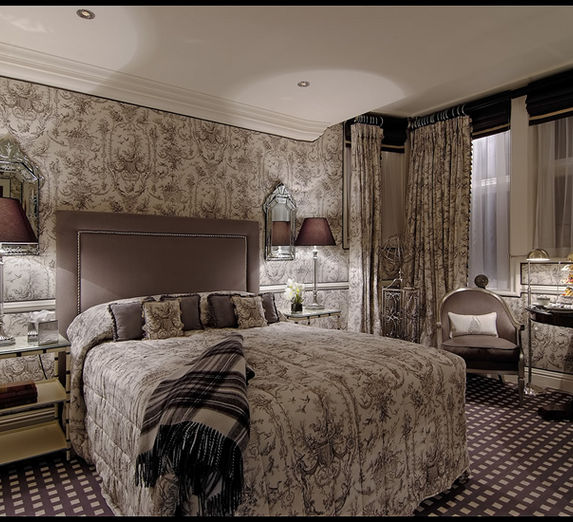 To keep your room looking pristine, the maid visits twice a day. Each time, she leaves a few special treats: home-made cookies, bonbons, tomorrow's weather forecast, chilled mineral water, hand-picked seasonal fruits, complimentary newspapers, delicious canapés, candles in the bathroom – perhaps even a small book of poetry.
Your room at The Milestone may be a sumptuous private dream world, but there's still plenty of discreet 21st-century technology to keep you in touch. There is complimentary high-speed wireless internet connection and interactive TV with movies on demand.
Dining
Dining at The Milestone is an event as much as a meal. Wherever you are – the ornate Cheneston's with its fine mahogany furniture, the chic Conservatory, or the split-level Stables Bar – there's more than enough time for relaxed conversation and magnificent food. And inspired by the fact that our front door is virtually within Champagne cork popping range of Kensington Gardens, why not enjoy our famous 'picnic in the park'.
Categories: Abacos, Europe, London, United Kingdom
Tags: Albert Grant, Arthur Onslow, Baron Redesdale, City Vacations, England Hotels, etraveltrips, Family vacations, George Davenport, Hotel, Kensington Garden, Kensington Palace, London, london hotels, Luxury Hotels, Milestone, Milestone Hotel, Romantic getaways, Shopping, sightseeing, travel, UK Hotels