The Milestone Hotel London, UK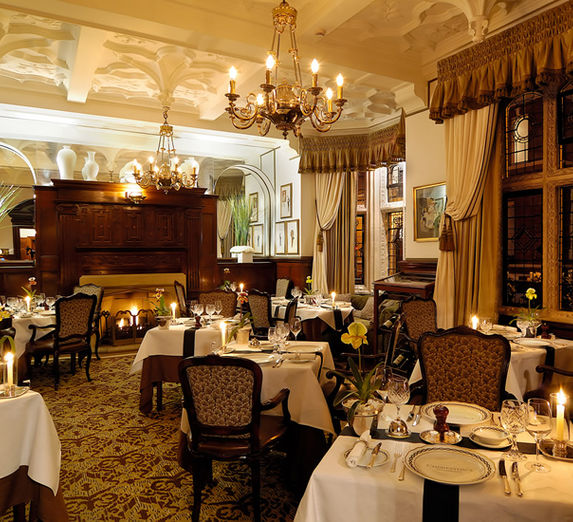 Our chef,  Daniel Collins, and his team make their mark serving fine cuisine with an accent on modern British dishes. They balance their natural creativity with a superb range of traditional comfort foods and a willingness to cook something special just for you. If they have the ingredients to hand (organic and, wherever possible, locally sourced), they'll rustle up exactly what you want – when you want.
There's a fine choice of wine too: more than 400 vintages. Passion for fine wines and gourmet food are the driving force behind everything we serve at The Milestone Hotel.
Spa & Fitness
This may be the heart of the city, but The Milestone Hotel has everything you need to maintain your fitness levels. There's a stream of flowing water in our resistance pool, miles of jogging tracks in Kensington Gardens and Hyde Park, a fully equipped gymnasium, and a luxurious spa treatment room.
 In a resistance pool, you swim against a constant flow of water. As a work-out, it's the equivalent of swimming several lengths of an Olympic-sized pool without moving from the point you started.
If you prefer to exercise in the open air, you only have to cross the road to find miles of paths amid the broad green expanse of the royal parks. There you can run (alone or with a personal trainer) or ride horses. Ask our concierge team for maps of the best trails and the most interesting walks.
Indoors, our gymnasium gives you enough equipment to raise your pulse as often as you need. Or maybe you prefer to reduce your heart rate. In that case our spa treatment room is a welcome refuge from the stress of travel and city life. Here you'll find an oasis of central London calm and a superb range of body treatments, beauty therapies, and top-to-toe massages.
Categories: Abacos, Europe, London, United Kingdom
Tags: Albert Grant, Arthur Onslow, Baron Redesdale, City Vacations, England Hotels, etraveltrips, Family vacations, George Davenport, Hotel, Kensington Garden, Kensington Palace, London, london hotels, Luxury Hotels, Milestone, Milestone Hotel, Romantic getaways, Shopping, sightseeing, travel, UK Hotels