Acapulco- The Romantic Resort City
To rent a car you must be at least 25 years old and major credit cards are accepted here. It's usually difficult to drive in Acapulco as most hotels and attractions are on the main avenue ('Costera'), which follows the shore of the bay from one end to the other. International Drivers license is recommended although not always required.
WHEN TO GO:
The dry, hot months, October to May, are the best time to visit but the hotel room rates are also the highest. September to early November and March through May (not including Spring Break and Easter Week) are shoulder seasons and offer a good money-weather ratio.
POPULAR TOURIST ATTRACTIONS OF ACAPULCO:
Acapulco has everything a visitor could ever want – beautiful sunny beaches, a rich history (including pirates), vibrant nightlife, stunning scenery and brave cliff divers who jump in the ocean in the night with fire sticks in their hands.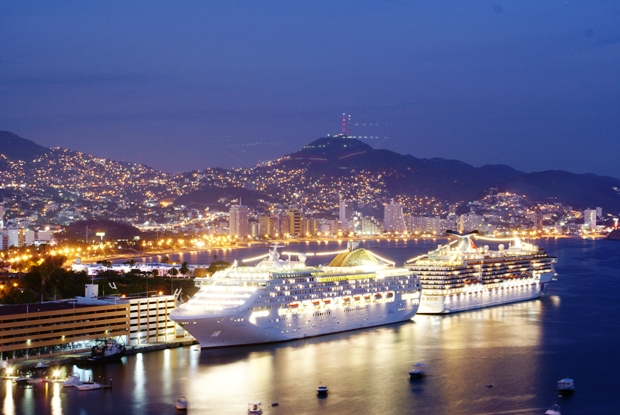 Acapulco cruise ships
• Beach Tourism:
Beautiful beaches on golden sand with palm trees and refreshing breeze. Swim in warm blue water, Water Ski, Sports fishing, Scuba diving, and wind Surfing.
• Roqueta Isle : Roqueta Isle is famous for scuba diving and snorkeling. Glass bottomed boats are available from "Caletilla" to Roqueta Isle to help you see the marine lives beneath through the clear water of the sea.
• Isla Roqueta Zoo:
It is the world's only zoo located on an island. Visitors must ascend a hill and walk among the tropical plants to see a variety of animals, including elephants, giraffes, monkeys, and an extensive assortment of snakes.
• Fort of Saint Diego – Museum: This architectural landmark was built to guard the port of Acapulco from pirate attacks in 1616. It has a collection of items from Asia and Europe.
Categories: Abacos, Acapulco, Mexico
Tags: Acapulco, Beach Vacation, Costera, Family vacations, La Gran Plaza, La Quebrada, La Quebrada Mexico, mexico, Princess Cruises, Romantic getaways, Scuba Diving, Tourism