Amanyara Resort in the Turks and Caicos Islands
As at all Aman Resorts, around the clock concierge, maid, valet and room service provide all the gracious touches of home. Amanyara seeks to please the most discerning clients with understated service where privacy, individuality and personal attention are assured. Each trained professional has the knowledge and resources to help you make the most of your day.
Surrounded by nature, serene and utterly private. Complete restoration and renewal of the mind, body and spirit await in one of the individual spa treatment pavilions. Aman Spa therapists are trained to help create a personal program of yoga, meditation, massage and appropriate selection of essential treatments. Delicious natural and organic foods are prepared with care and respect for a balanced nutritional regimen.
Should you wish to stir from basking beach side, the staff are pleased to make charter arrangements for sailing, deep-sea and bone fishing, scuba diving or a round of golf at the nearby 18-hole championship course.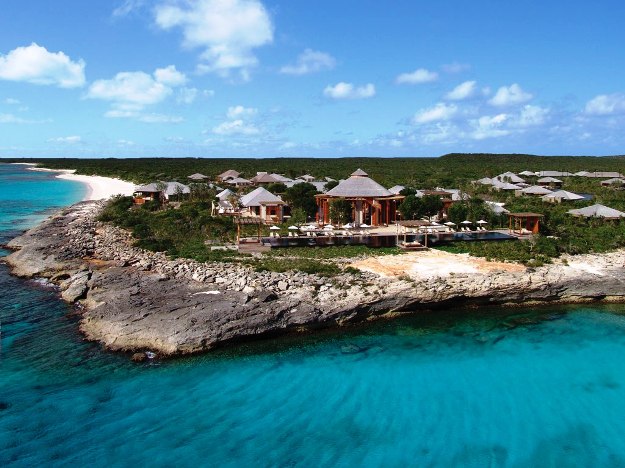 Travel information
Climate
The Turks and Caicos Islands benefit from the cooling effects of trade winds from the Southeast Equatorial Current. The islands boast a sub-tropical climate, similar to that of the Bahamas, though slightly warmer and drier. The dry season generally runs from November through May, with scattered showers from June through October. During the cooler months from December through March, the average daily high temperature is approximately 26°C (80°F) which coincides with the peak season. The hotter months are June through October, when the daily average high is 32°C (90°F).
Language
English is the official language of the Turks and Caicos Islands.
Currency
The Turks and Caicos Islands are unique in that the official currency is the US dollar, despite their status as a British Overseas Territory.
Categories: Abacos, Caribbean, Turks & Caicos Islands
Tags: Adventure Travel, Amanyara Resort, Amanyara Resort in the Turks and Caicos Islands, Bahamas, Beach Vacation, British West Indies, Caicos Island, Caribbean, Caribbean vacation, Daylight Saving Time, etraveltrips, Family vacations, Hotel, Luxury Hotels, Providenciales, travel, Turks, TURKS AND CAICOS ISLANDS, Turks and Caicos Vacation