Antigua: Curtain Bluff Antigua, West Indies
Executive One-bedroom Suite – Overlooking Surf Beach but a few steps higher up the bluff, the 6 one- and two-bedroom Executive Suites are more private and secluded. Their split-level interiors are light and airy, decorated with natural-wood and sea-grass furniture and bright, natural colors. To the side of the large living room there is a sun-drenched garden patio with a hammock. Upstairs there is a breakfast nook and a 16-foot-wide dining terrace that make the most of the panoramic views.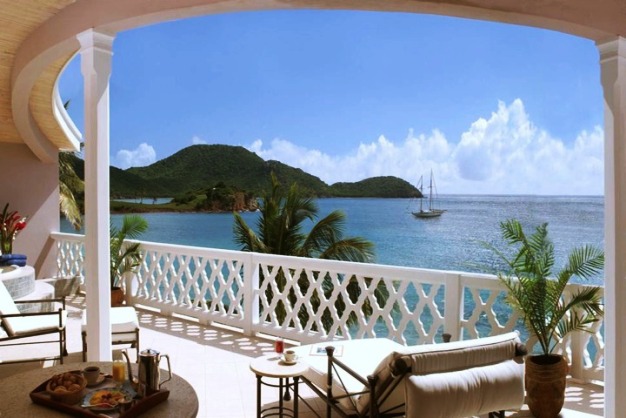 Curtain Bluff Restaurants & Bars
The Tamarind Tree – Open-walled in the traditional plantation style, the main restaurant looks out over a terrace canopied by the spreading limbs of a majestic tamarind tree. At breakfast the restaurant is shaded from the bright morning sun and cooled by a breeze from the sea, just visible through the palms. The menu includes favorites like banana pancakes, French toast and Eggs Benedict, plus traditional island dishes, fresh juices and fruit. All breads, croissants and pastries are freshly baked by the accomplished pastry chef.
At dinner the tables are flecked with candlelight and the terrace sparkles with decorative lights. Changing every night, the five-course menu always includes salads, locally caught fish, outstanding meats, healthy options and so many desserts they have their own menu. Each evening there is a different band and, as diners filter out of the restaurant to sit at the terrace tables, the tempo builds and couples dance in the moonlight.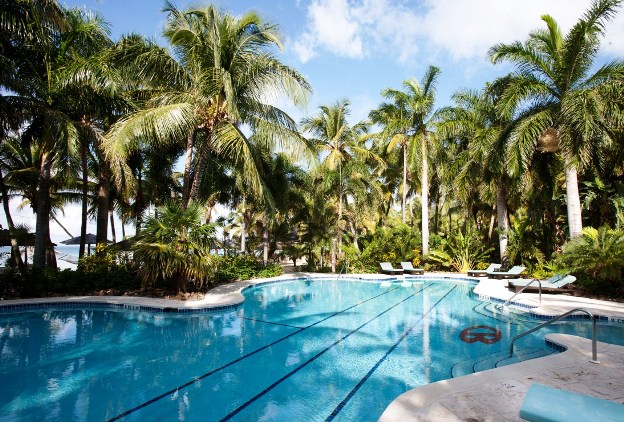 The Sea Grape Restaurant – Located down by the beach with views across the ocean to Montserrat, this eatery is open for lunch. In the evening it is transformed into an intimate beach side restaurant, with drapes that billow softly in the ocean breezes and tiki torches that flicker gently on the sand. The restaurant offers a relaxed dining experience with cuisine influenced from local Antiguan and Italian flavors. Guests can choose from a varied menu with delicious items such as Pesce Spada alla Griglia (char-grilled swordfish with warm parsley vinaigrette) or Gelato made locally at Curtain Bluff, under the guidance of an Italian chef Timo. It is open 4 nights a week Tuesday, Wednesday, Friday and Saturday between 7.00pm and 9.30 pm.
Categories: Abacos, Antigua, Caribbean
Tags: Antigua, Antigua and Barbuda, Antigua Vacations, Beach, Caribbean, Caribbean resort, Curtain Bluff, etraveltrips, Executive Suite, Hotel, Hotel Deals, Hotels, Jacuzzi, Junior, Luxury Hotels, Montserrat, Resorts, St. John's, travel, travel deals, vacations