Arches National Park with kids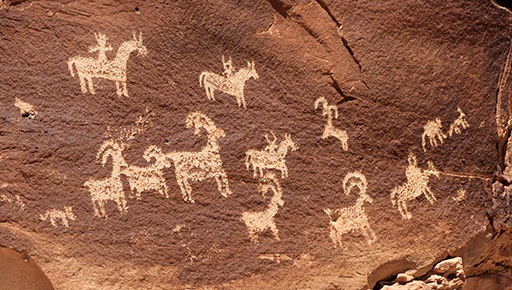 But we have a loftier goal for my kids' first trip to Arches National Park: Hiking the 3-mile round-trip to iconic Delicate Arch, the rock formation pictured on Utah license plates. It's not an easy trek; the official park visitor guide (you'll get one when you pay your entry fee) labels it "strenuous" with very little shade. But we're armed with plenty of water, energizing snacks, and healthy senses of humor.
We find the hike full of surprises, especially since it had been 13 years since my husband and I had done it. Along the way, we see cacti in spring bloom, little lizards scurrying into cool hiding places, and, once we reach open slickrock, piles of rocks we explain to the kids are cairns to help mark the trail. That becomes a game, too: Who can spot the cairns first?
I'd forgotten that at the end of the trail, just before we reach freestanding Delicate Arch, we'd need to traverse a rock ledge. But the kids handle the narrow path just fine, better than I (who am the most afraid-of-heights in our family).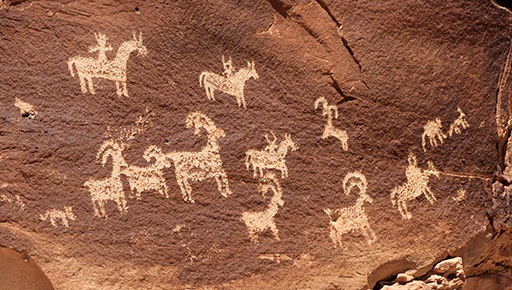 Images carved into stone
After high fives all around for reaching the impressive finale, the hike back down (480 feet in elevation) feels like a piece of cake. Plus, there's another reward I'd been saving: A short side trail at the main trailhead leads to primitive petroglyphs carved sometime between 1650 and 1850.
A little history lesson, plenty of vigorous outdoor exercise, an appreciation of nature, and lots of laughs round out our time in Arches National Park. And that's just one day in the Moab area. The small resort town surrounded by red-rock landscapes and snow-covered peaks is filled with many kid-friendly trails for hiking and biking. Other local activities include jeep tours, river rafting, hot-air ballooning, and horseback riding. (Moab Adventure Center is a good place to start perusing some fun options.) Moab even is a great place just to relax; we visited Moab when my children were preschoolers, and we found fun simply throwing rocks in the Colorado River and playing the oversized outdoor musical instruments in Rotary Park.
Categories: Abacos, General, Moab, Salt Lake City, Utah
Tags: Adventure Travel, Arches National Park, Colorado River, etraveltrips, Family vacations, Friday (1995 film), Hiking, Historical site, Moab, National Parks, Orem, Parade of Elephants, Salt Lake City, Sheep Rock, The Organ, Three Gossips, travel, Utah, Utah County