Beijing China – a Forbidden city
The Forbidden City itself has more than 100 museums and gardens.
2. The Infamous Tiananmen Square
The Infamous Tiananmen Square is the largest square in the world, with total area of 109 acres, can accommodate more than 5 million people at a time. The Tiananmen Square became famous in world eyes and become great political importance because of the 1989 massacre during Mao Zedong period, where many Chinese students and workers surrounded Beijing's Tiananmen Square and began the largest political protest in China's history were killed.
There is Monument to the People's heroes (Inside there are large sculptures which show the development of Chinese modern history, it is devoted to people who died in the struggles to make China an independent nation in the century before the Communists came to power)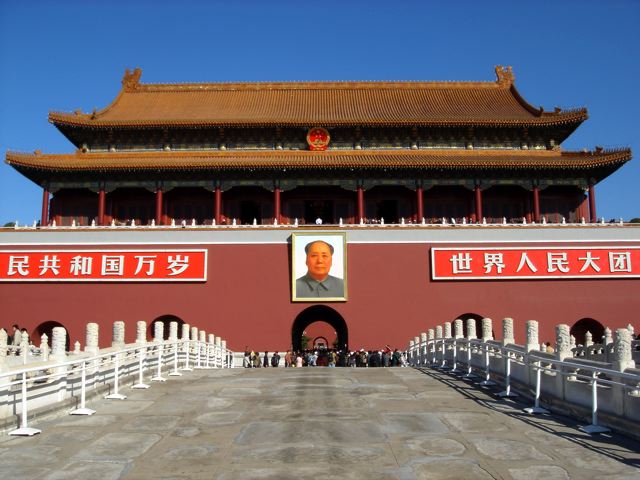 Great Hall of the People, Tiananmen tower and Mao Zedong memorial Hall (where Mao's body lies in a crystal coffin in one of the halls surrounded by fresh bouquets of various famous flowers and grasses) are attractions to visit during your trip Tiananmen. And not to be missed is the raising of National flag ceremony! To see the National flag ceremony, one has to wake up early in the morning and reach the square before sunrise. There are mass of people presence in the ceremony every morning
The square is also the gates to Forbidden city, previously use in the past in the dynasty time as the place holding big ceremony to the common people to declare the emperor and empress.
3. The temple of heaven
The Temple of Heaven is located in the southeast of Beijing. It used to be used by Emperor to pray for good harvest and weather. The Temple of Heaven has been listed as one of the World Cultural Relics by the UNESCO.
Categories: Abacos, Asia, Beijing, China
Tags: Beihai Park, Beijing, China, etraveltrips, Forbidden City, great wall of china, Historical site, Mao Zedong, Museums, National Monuments, Peking University, sightseeing, Summer Palace, Temple of Heaven, The Summer Palace, tiananmen square, vacation