Beijing China – a Forbidden city
Archaeologists have discovered many humans remains buried under the wall. Estimated that more than 1 million people died during the construction of The Great Wall of China
Many locations can be visited by one to have spectacular view of the Great Wall of China. Badaling is one of the places. Badaling is significant for the Ming dynasty contribution to the Great Wall. Other places include Mutianyu, Simatai and Jinshanling
Sleeping in the great wall of China?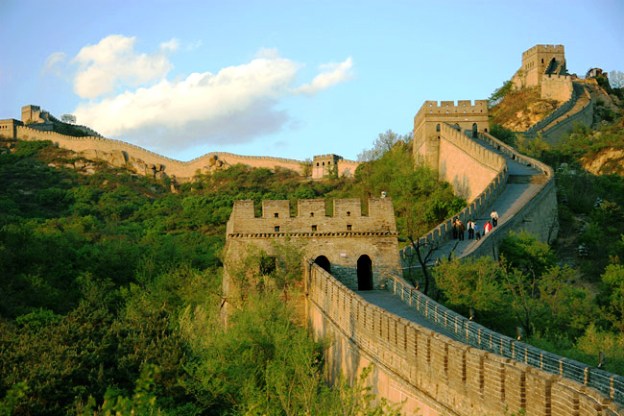 7. Hutong
Other places to see on Beijing are the "Hutong". In the old days the word Hutong came from Mongolia language, which means "water well". It refers to the place where there is water, the place where people gathered together and live in. Today, "hutong" means a small alleyway or lane.
In the old days, people live in Hutong courtyard residences. The alley passageways of Hutong are narrow. One can go through the zig-zag alley by foot or by ricksaw or by bicycle.
If you wonder about Chinese lives, in Hutong you can see old people spending their time playing chess, mah-jong and hear the traditional folk singing. In Hutong, some of the Chinese tradition is still preserved. Private homes in the Hutong can be visited as well so the tourist can see how genuine Chinese people live.
One can visit 300-year old courtyard in the Shichahai area, belong to army officer during Ming dynasty (1368 – 1644).
The lucky tourist will get to visit a school inside one of the Hutong areas where young children are taught from as young as two years of age.
8. Silk Alley
Last but not least. After a lot of walking and sight seeing, its time to do what women likes to do all the time! For shopping at a bargain price, one has to visit "Silk Alley". "Silk Alley" is a great place to buy souvenir and buy well-known brand such as Nike. Cheap pirated DVD and CD are also sold there. Remember, "Bargaining" is what you must do when visit the "Silk alley". The price can be discounted until 50%!
Categories: Abacos, Asia, Beijing, China
Tags: Beihai Park, Beijing, China, etraveltrips, Forbidden City, great wall of china, Historical site, Mao Zedong, Museums, National Monuments, Peking University, sightseeing, Summer Palace, Temple of Heaven, The Summer Palace, tiananmen square, vacation