The amuse-bouche of deep-fried sea cucumber, cucumber and duck fat set the tone, declaring that this was not going to be a regular meal. Next came local purple sea urchin custard. After that: A delightful vegetable dish of sunchoke. Later in the meal, servers brought over venison carpaccio, black mussels with harissa and sea vegetables, local rock fish, and a quail dish. As unique and adventurous as this all sounds, it was delicious, too.
The Restaurant at Ventana Inn
Just across the road from The Post Ranch is Ventana Inn, another breathtaking property with a great restaurant. The wooden interior of this elegant space brings a woodsy vibe, with views of trees, cliffs, and the Pacific Ocean below.
The newest menu features American food with a veggie-celebrating, California spin. Produce and products are from local farms and sea. The unctuous lamb pappardelle or California black cod dishes can follow starters of grilled octopus or quail tempura. The menu also stars a Brussels sprouts salad and a starter of baby kale and baby beets with goat cheese. Also, the passionfruit semifreddo and the sweet cinnamon donuts for dessert put a big smile on my face.
Viewfinder Tip: Make Big Sur meal reservations in advance to guarantee your spot.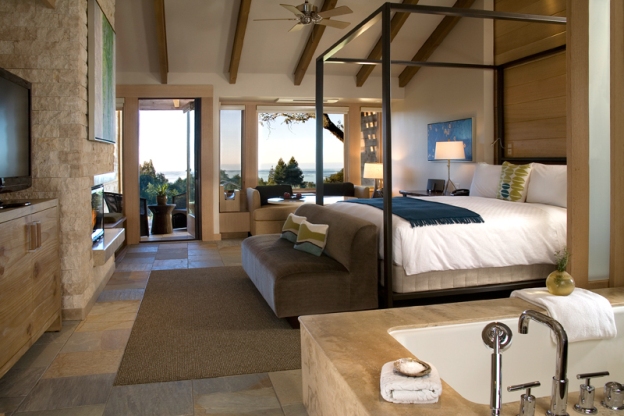 Big Sur Roadhouse
Big Sur Roadhouse is a little less expensive than the other two eateries on my list, and the atmosphere is slightly more casual. Open from 7:30 a.m. to 9 p.m., the restaurant is ideal to accommodate those passing through town any time of day.
The ambiance here is very Big Sur; incorporating materials such as natural woods and wrought iron. The result of these design elements is a rustic yet modern-style decor. What's more, modernist paintings by local artists adorn the walls, and windows look out upon redwoods.
Categories: Abacos, Big Sur, California, Restaurants, San Francisco, USA
Tags: AT&T Park, Big Sur, Big Sur Restaurants, Big Sur Roadhouse, California, etraveltrips, Foodies, High-speed rail, Los Angeles, Los Angeles Times, Restaurants, San Francisco, The Post Ranch, Top Restaurants in Big Sur, Ventana Inn