Even better, my husband isn't near the spa junkie I am, so he wasn't accustomed to pampering himself in this way—or sitting still for 15 minutes. I was delighted that he, too, enjoyed slowing down the pace for some soaking and steaming. Our entire experience at Refuge reminded me how much I appreciate his willingness to go with the flow and accommodate me and my wishes on vacation.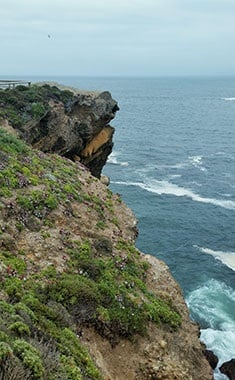 Craggy coast near Carmel
We'd scheduled other favorite activities that are more aligned with our our style—strolling expansive Carmel Beach; hiking and spotting harbor seals and sea lions at nearby Point Lobos State Reserve; and drinking plenty of wine, thanks to the 14 tasting rooms within a square mile in downtown Carmel. We especially liked the intimate space serving both Blair Estate and Shale Canyon Wines (two for one!), as well as Vino Napoli restaurant with its Pèpe Winery flights and full Italian menu of tapas, salads, pasta, and pizza.
Making it incredibly easy to explore the new-to-us, charming hamlet of Carmel was our choice of lodging at the downtown, Mediterranean-style Cypress Inn, about eight blocks from the beach and just one block from the bulk of those aforementioned tasting rooms. Co-owned by film legend Doris Day, an ardent advocate of animal welfare, the hotel not only has some nostalgic 1950s and 1960s movie memorabilia in the lobby, it's incredibly pet friendly. In fact, at the lobby lounge's daily "Yappy Hour," locals and guests are encouraged to bring their four-legged friends for socializing with other canines.
We didn't vacation with pets, but we appreciated the boutique Cypress Inn for its comfortable rooms (our ground-level room with king bed and pretty mosaic accents faced a tiny courtyard), the complimentary WiFi (always a plus), and the included breakfast spread, featuring hot-from-the-oven popovers. Our dinner at on-site Terry's Restaurant & Lounge featured salads, small plates, and sides for sharing, as well as my first foray into sampling lightly breaded and pan-seared sand dabs, a delicate (and delicious) fish I'd never heard of, caught off the coast of nearby Monterey.
Categories: Abacos, California, Carmel, USA
Tags: Artem Chigvintsev, Big Sur, California, Carmel, Carmel-by-the-Sea, Doris Day, Double-elimination tournament, etraveltrips, Historical site, Monterey, Monterey Bay Aquarium, Museums, Pebble Beach, Point Lobos, Romantic getaways, sightseeing, travel