Andaz Wall Street hotel New York City
Dining Inspired by the Hudson Valley, infused with local flare.
Fitted with open-floor kitchens and sourced with local ingredients, our neighborhood-centric restaurants serve delicious cuisine and zesty cocktails. Hudson Valley-inspired Wall & Water offers creative, farm-to-table foods, including roasted young chicken and W&W Wagyu burger, at communal-style or private tables. If you're feeling inspired, take a seat at the chef's table, where our head chef will prepare innovative culinary creations of the day.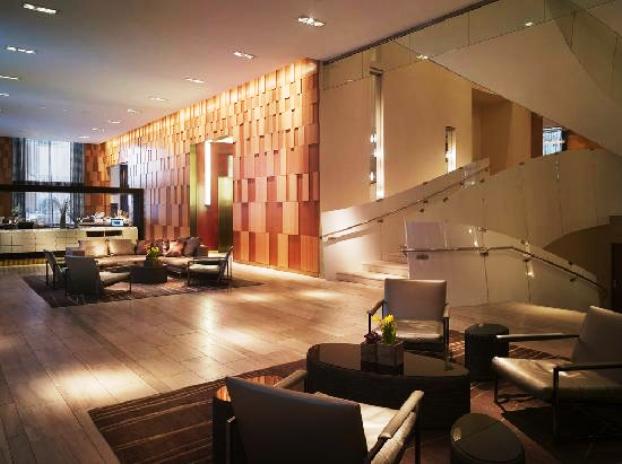 Local dining, art, nightlife, and that famous New York style—Andaz Wall Street is a kaleidoscope of New York's spirit. Come witness the rebirth of Lower Manhattan in delightfully simple and completely unexpected way.
A fitness center is available for the health conscious, and includes a spa. The hotel also provides a communal social space to mix and mingle with other visitors.
Location
Hotel offers convenient access to the Brooklyn Bridge, as well as the Statue of Liberty and Ellis Island Ferry. It is located just under six kilometres from New York's Grand Central Station.
South Street Seaport (0.2 mi/0.4 km)
Theatre District (4.6 mi /7.4 km)
Century 21 Department Store (0.4 mi/0.7 km)
Battery Park (0.5 mi/0.8 km)
Ground Zero Museum (3.4 mi/5.5 km)
Empire State Building (3.9 mi /6.3 km)
ANDAZ WALL STREET
75 Wall Street
New York, New York, USA, 10005
Tel: +1 212 590 1234
Fax: +1 212 590 1238
http://www.newyork.wallstreet.andaz.hyatt.com/en/hotel/home.html
Categories: Abacos, New York, New York City, USA
Tags: Andaz Wall Street, Brooklyn Bridge, Dining, empire state building, etraveltrips, Hotel, Hudson Valley, Hyatt, Lower Manhattan, New York City, new york city hotels, new york hotels, newyork, Romantic getaways, Shopping, sightseeing, Statue of Liberty, travel, travel deals, vacation, Wall Street