Festivals from around the world
The Carnival of Tenerife
The Carnival of Tenerife is the most important event of the islands in the Canaries archipelago and is considered the second most important one in the world, after the one in Rio de Janeiro. The celebration has two parts: an official one, and one in the streets. The official celebration includes the participation of over 100 groups of artists, and the vast street fiesta involves the participation of all residents on the island.
Each year a different theme is chosen and the carnival kicks off with the presentation of the Carnival Queen Contestants. Days of band and murga (comedic folk singers) contests and concerts follow and culminate in the Grand Parade. Though the Grand Parade is really the highlight of the Carnival season, more events follow. Festivities focus on Santa Cruz to begin with but gradually spread out to other areas as each town and village celebrates its own fiesta.
It is said in Tenerife that nothing happens for two weeks before carnival because everyone is busy getting ready, then of course nothing can happen during carnival because companies only work a couple of hours a day so there is no time and after carnival nothing happens because everyone is recovering from carnival. Then Puerto de la Cruz starts it's carnival, followed by Los Cristianos!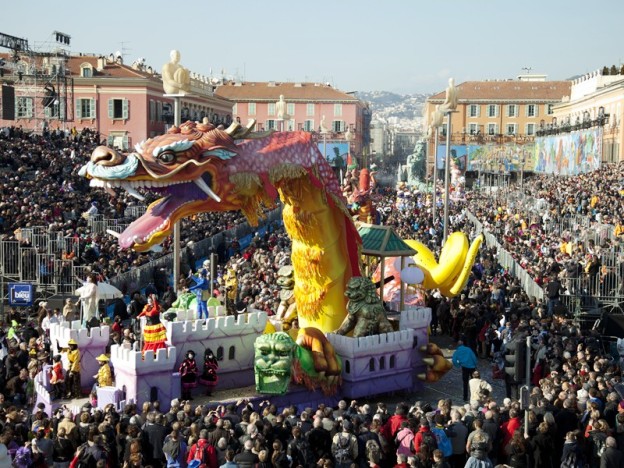 The Carnival of Nice
The Carnival of Nice is one of the grandest events of its kind in the world. Organized parades, floats, elegant range of flowers, lights and sound… all are animated by over 1,000 musicians and dancers from all over the world.
Nice Carnival is one of the world's oldest, the earliest reference dating back to 1294. Today it's a glorious 12-day party running from mid February to the end of the first week of March. The city of Nice erupts day and nigh with parades of floats culminating in Mardi Gras on the last day. Historically Nice Carnival was the last chance to indulge in rich foods and drink before the 40-day Lent fast, and the chance to disguise your identity behind fantastic masks and enjoy pleasures forbidden by the Catholic church during the rest of the year.
Categories: Abacos, Brazil, Europe, France, Italy, Nice, Rio de Janeiro, Sicily, South America, Spain, Tenefire, Venice
Tags: Ash Wednesday, Brazil, Carnival, Festivals, France, Italy, Lent, Nice, Rio Carnival, Rio de Janeiro, Sicily, Spain, Venice, Venice Carnival