Talking about art museums, Museo Bardini in the northwest corner of the district is located in a palace bought in 1880 by Stefano Bardini to house his collections of sculptures, paintings and tapestries. The story has it that the museum was closed for renovations for several decades. Across the road is the Giardino Bardini, a Renaissance garden, recently opened to the public.
The historic Santa Croce neighborhood is located southeast of Florence's center. This historic area dates back to the Middle Ages. As you might guess from its name, the district centerpiece is the Gothic Santa Croce Basilica, started in the late Thirteenth Century and sort of completed almost one hundred fifty years later. Its neo-gothic bell tower was added in the middle of the Nineteenth Century. Here lie the remains of Galileo Galilei, Niccolò Machivelli, and Michelangelo.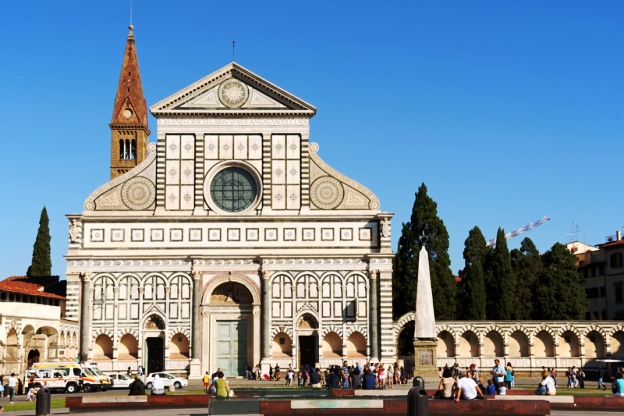 Despite the monument to Dante his remains repose in Ravenna. Given its importance as a burial site, this church is known as the Tempio dell'Itale Glorie (Temple of the Italian Glories). The 1966 Arno River flood caused major damage that took decades to repair. During the annual Calcio in Costume" (Football Match in Fancy Dress) in the Piazza Santa Croce, Dante's statue is moved to the side of the square.
The first cloister of this church hosts the magnificent Renaissance Cappella de' Pazzi with its hemispherical dome, surrounded by terracotta roundels of the Evangelists that some attribute to Donatello. (Does anyone remember all the names of the Teenage Mutant Ninja Turtles?). The Museo dell'Opera di Santa Croce (Museum of the Works of Santa Croce) is home to the famous Crucifix by Cimabue, damaged by the Great Flood of 1966. This still beautiful cross has become the symbol of the Arno River Flood and the subsequent recovery.
Categories: Abacos, Europe, Florence, Italy
Tags: Arno, City Vacations, Florence, Historical site, Italy, Medici, Michelangelo, Palazzo Mozzi, Piazza Santa Croce, Piazzale Michelangelo, Romantic getaways, San Miniato al Monte, sightseeing, travel