Free stuff to do in Las Vegas
Not only are the animals imported but so is the foliage you are gazing at.  You'll wonder why you paid so much for similar attractions and this one is completely free.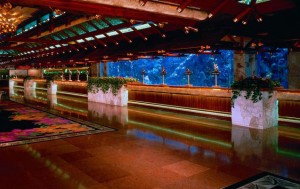 Hey come quick, there are sharks and stingrays in the lobby of the Mirage! It's true, they are swimming along with friends like the puffer fish in a 20,000 gallon right in the center of the lobby at the Mirage. It's amazing. For a second you'll forget you are in a hotel and not at your city's aquarium paying a $20 admission fee. Several of the top aquarium design experts collaborated to create the ultimate undersea environment. The coral inside is absolutely stunning with vivid true colors but what is even more amazing is that it is artificial. That's right; all man made.   The acrylic walls of the tank are 4 inches thick so there's no worry of it coming apart. Inside you will see over 1000 coral reef animals representing 60 species from Australia, Hawaii, Tonga, Fiji and more.
Las Vegas is a great vacation destination whether you are traveling with the family, as a couple or with your friends for a weekend getaway. With so much to do you'll wonder how you'll fit it all in and when you can get back here.  With so many ways to spend your money you'll see it go rather quickly.  It's nice to know there are a few attractions that are free in the city of sin. Whether you stay at a hotel or book a timeshare rentals at a local timeshare resort it doesn't matter. You won't be spending much time in the room anyway.  It's great to have free things to do in Las Vegas but the important thing is that you have fun and enjoy.
Categories: Abacos, Las Vegas, Nevada, USA
Tags: Australia, casinos, Chilean Flamingo, Fiji, Hawaii, Las vegas, Metro-Goldwyn-Mayer, MGM, Mirage, travel