Gaudis Temple the Sagrada Familia, Barcelona Spain
You will find all the usual souvenir stalls and gift stores around the whole area, and you won't have any excuses for not returning back home with some great mementoes of your visit to the Sagrada Familia.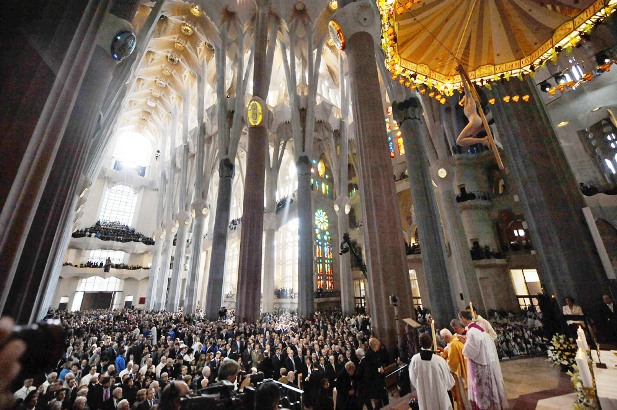 Here are few tips to help you get the most from your visit:
1. La Sagrada Familia can become very crowded fairly quickly, so you should try to get here early. There is plenty to see and it can take most of the day if you want to pack everything in.
2. Audio guides are available if you want them, but while it is highly recommended that you do, you will need some ID such as a passport because you will likely be asked to surrender it temporarily as a security deposit.
3. Dress properly: sleeveless shirts and shorts are not permitted. This is a Catholic Church and should be treated with respect.
4. La Sagrada Familia is beautifully illuminated at night, and is a fabulous time for photographs. Try to visit it at least once at night when the lights are shining on it.
5. Finally, make sure you book your accommodation in advance. Although there are many excellent Barcelona holiday rentals available, it pays to have yours booked during the city's busy tourist season.
For hotel in Barcelona Spain click the link below
https://www.etraveltrips.com/eTravelTrips/hotels_list_details.php?image=6983
Categories: Abacos, Barcelona, Europe, Spain
Tags: Antoni Gaudí, Barcelona, Catholic Church, Gaudi, Holy Family, Romantic getaways, Sagrada Família, Sanctus, sightseeing, Spain