Great American Road Trips
There are more photo opportunities along this route than you could shake a selfie stick at, starting in Chicago at the John Hancock Center for the cities most magnificent views. There is plenty of quirk along the way. Check out the world's largest ketchup bottle, the Cadillac Ranch which is a public art display of 10 artfully graffitied cars buried nose down, and the Blue Whale of Catoosa in Oklahoma.
Rest your head at the Wigwam Motel where you can spend the night in a tepee, lunch and laugh at Delgadillo's Snow Cap in Seligman, Arizona, and finally, wind down with a hot dog on the boardwalk at the Santa Monica Pier, the end of the trail. While it is no longer an official U.S. highway, Route 66 will always be a piece of the American fabric and bucket list worthy journey through our countries history.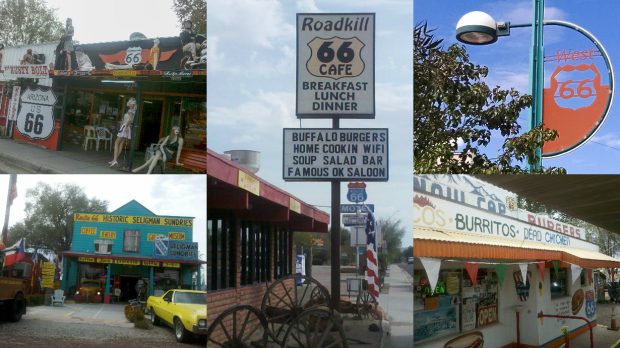 KENTUCKY: The Bourbon Trail
Did you know that bourbon is America's only native spirit? And, according to the Kentucky Distillers Association, nearly 95 percent of all bourbon is produced in Kentucky. Since the 1700s, Kentuckians have carried on the tradition of making fine bourbon, a process that hasn't changed from that of their ancestor's centuries before.
This road trip is as much a history lesson as bourbon tasting. Starting in Louisville, Kentucky, there are nine historic distilleries on the Bourbon Trail, and they range between 8 and 80 miles apart. The drive itself is picturesque, taking you through quaint towns, and just like good bourbon, you should take it in slowly and deliberately.
No chaser needed. We suggest you plan ahead so that you can maximize your time at each distillery and take full advantage of all the behind the scenes tours and tastings. Each distillery's tour is unique, and you should plan for a minimum of 90 minutes at each distillery. The Bourbon Trail is one road trip where you'll want to have a designated driver at the wheel.
Categories: California, Hawaii, Kansas, Kentucky, Montana, Oklahoma, Texas, USA
Tags: Adventure Travel, Beach Vacation, California, City Vacations, etraveltrips, Golden Gate Bridge, great American road trips, Hawaii, Historic Route 66, Kansas, Los Angeles, Missouri, Montana, New Mexico and Arizona, Oklahoma, Pacific Coast Highway, Road Trips, San Francisco, sightseeing, Texas, The Bourbon Trail, The Road to Hana, travel, vacation, Washington DC