Activities you can do in Bali Indonesia
9) Jet Skiing; Re-create those favourite Baywatch moments! Due to their environmental impact, only available at some selected beaches across the island. (available at Grand Hyatt Nusa Dua).
10) 
Go-Karting
; Only for those who get withdrawal symptoms from being away from the hustle and bustle of big-city life! All the noise, thrills and danger of the real thing! Choice of single or double carts.
11) Golfing; A number of 18 hole courses are available across Bali. As you would expect, each more beautiful than the other. Relax on an easy course, or challenge yourself to one of the more demanding courses designed by professionals. Either way, don't miss the spectacular views over the Indian Ocean or one of Bali's great volcanoes. Most courses in Bali are to international standards, and many offer clubhouses and recreational facilities for the rest of the family.
12) Helicopter Tours; Go on, splash out for that once in a life-time experience! Spectacular views overBali even Lombok. Take in the gentle rice terraces from the best vantage point, or get up close and personal with a volcano! Not cheap, but certainly an experience never to forget. (Air Bali)
13) Horse Riding; Enjoy one of the equestrian centres at your doorstep! Selection of horses, with courses for the beginners. Wonderful escorted tours through the rice terraces and tide permitting down the beach. (Umalas or Saba Bay Stables)
14) Kite Boarding; Some great wind and lift, as well as the equipment for rental is available at Nusa Dua beaches. But make sure you have a great story lined up for your insurance company! Keep in mind, this really is an Extreme Sport.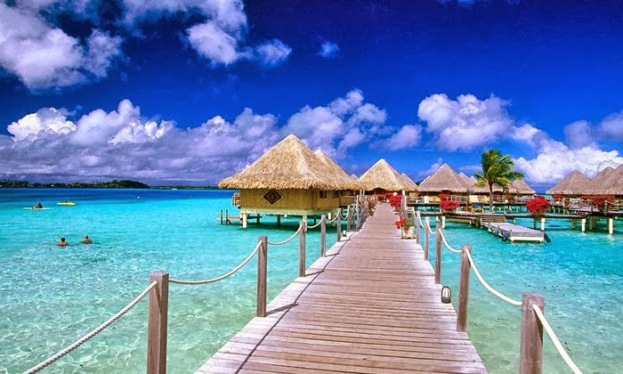 15) Monkey Watching; Experience mischievous macaques in full action! Also, some good restaurants and eateries nearby. However, be careful of your cameras, glasses and the like! (The Sacred Monkey Forest – Ubud)
Categories: Abacos, Asia, Bali
Tags: Adventure Travel, Asia, Bali, Balinese, Beach Vacation, Family vacations, Hotel, Hyatt, Indonesia, Kecak, Luxury Hotels, Romantic getaways, Sanur Bali