Hollywood Los Angeles, California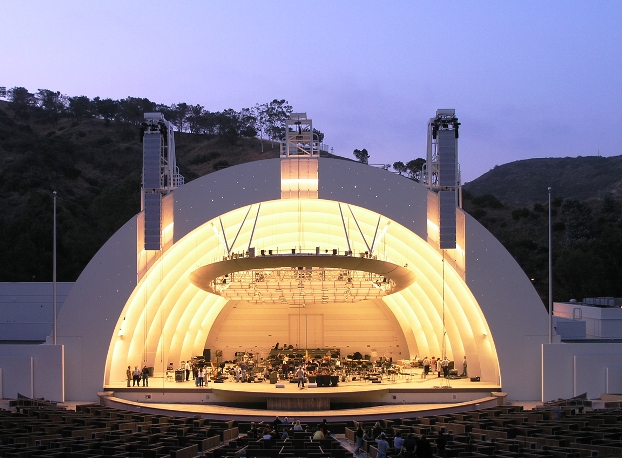 While many of the major studios are located elsewhere (such as Studio City in the San Fernando Valley), filmmaking has been going on at nearby Paramount since the 1920s, and you can experience it through tours or tapings of live TV shows. But for the best glimpse of how films are made, head over the Hollywood Hills to Universal Studios in Universal City.
Though it's been a working studio for decades, it has become a major tourist destination thanks to its popular tour of the world's largest television and film studio. Suitable for the whole family, sceptics included, the tour includes special-effects rides that let you experience an avalanche and an earthquake, thrill rides that get you up close to the Jurassic Park dinosaurs and tales of the amazing world of filmmaking.
Whether you'll actually have a star-sighting during your tour is questionable. But some spots around town have relatively decent odds. One such place is the historic Hollywood Roosevelt Hotel. A celebrity hangout for 75 years, and host to the first Academy Awards in 1929, the hotel just had a full-blown facelift, and its high-beamed art deco lobby, decorated swimming pool by David Hockney, smartly redone bars and well-regarded jazz club, Cinegrill, are all star attractions.
And don't forget to look for that famous 'Hollywood' sign. The 50-foot-high sign was placed on top of Mount Lee in the Hollywood Hills in 1923 as part of a promotion for a real estate development called Hollywoodland. The last syllable detached and crashed during a landslide, but the 450-foot-long part that remains has been restored and elevated to landmark status. The best view is from Sunset Boulevard and Bronson Avenue: so get your cameras out!
Categories: Abacos, California, Hollywood, Los Angeles, USA
Tags: California, Cecil B. DeMille, Cinema of the United States, City Vacations, etraveltrips, Family vacations, Hollywood, Jack Sparrow, Las Cruces Sun-News, Los Angeles, Southern California