Ladera Resort, Saint Lucia
Spa
Ti Kai Posé offers four serene treatment rooms – all in keeping with the same intimate design and scale of Ladera's suites.
Visit the spa for a treatment to ready yourself for the day ahead, or select another to unwind after a day of play. The choice is yours. To make your spa experience with us truly memorable, Ti Kai Posé is pleased to offer you the following:
Enjoy your selected spa treatment in the comfort and privacy of your suite or villa.
Relax pre-treatment or at any time during your stay, in the new mineral soaking tubs located in the serenity of our spa gardens.
Take your massage outdoors; select any one of our massages and book it as a Rainforest Massage. This indulgent version of our in-spa massages pampers you outdoors, beneath a tent, in the lush, tropical gardens around the Spa.
Make the most of your time at the spa by using the Garden Gym for your workouts.
As part of Ladera's complimentary services, guests may also enjoy the new mineral soaking tubs in the spa gardens, conveniently located beside Ti Kai Posé Spa. These gardens draw their restorative waters directly from the source at the Diamond Mineral Baths near Soufrière. Originally built just before the French revolution in 1785 (with funds from King Louis XVI), it is rumored that the Diamond Mineral Baths were frequented by Napoleon's Empress Josephine.
Ladera guests may include a mineral soak as part of their pre- or post-massage routine, or simply use it to relax after a day hiking or spent at the beach.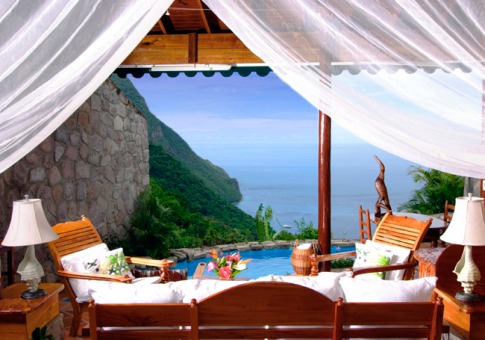 Dasheene Restaurant
Guests and visitors flock to Dasheene to enjoy the spectacular views and award-winning cuisine. Best known for eclectic and innovative menu items, Dasheene is open for breakfast, lunch and dinner, with a Sunday Brunch offering.
Categories: Abacos, Caribbean, St Lucia
Tags: Beach Vacation, Caribbean, Dasheene, etraveltrips, Family vacations, Hotel, Joséphine de Beauharnais, Ladera, Ladera Resort, Lucia, Luxury Hotels, Piton, Romantic getaways, Saint Lucia, Saint Lucia Hotels, Scuba Diving, sightseeing, Spa, Spa Vacations, travel, travel deals, vacation