Ponta dos Ganchos, Santa Catarina, Brazil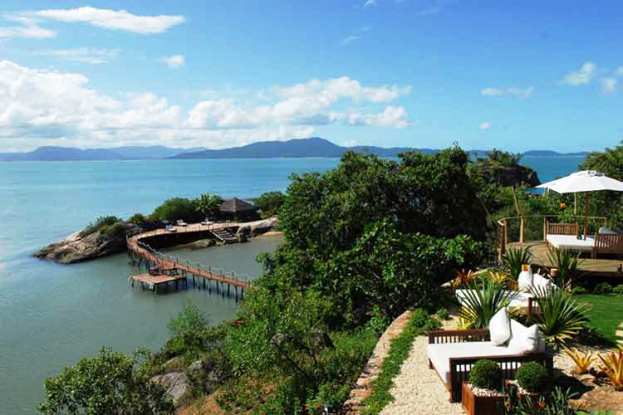 Additional information: Ponta dos Ganchos
Close to the resort is the best site for scuba diving in South Brazil, Arvoredo Island, in addition to excellent destinations for boat trips, such as Anhatomirim Island and the Baía dos Golfinhos.
The district of Governador Celso Ramos is just 25 miles (40 km.) from the state capital Florianópolis, and is a region immersed in history and tradition, with its small fishing villages whose inhabitants are descendents of the first immigrants from the Azores to settle along the Santa Catarina coast. It is a slice of the old-fashioned Brazil of colonial times, where the most important elements of life are traditional activities such as fishing, embroidery and oyster and mussel farming.
Children: No guests under the age of eighteen, both in order to maintain the peace and tranquillity guests expect and also because of the nature of the local terrain.
Dining: Chef Luis Salvajoli strives for the perfect blend of traditional recipes and Brazilian ingredients with international haute cuisine, achieving results that combine simplicity with delicious flavors.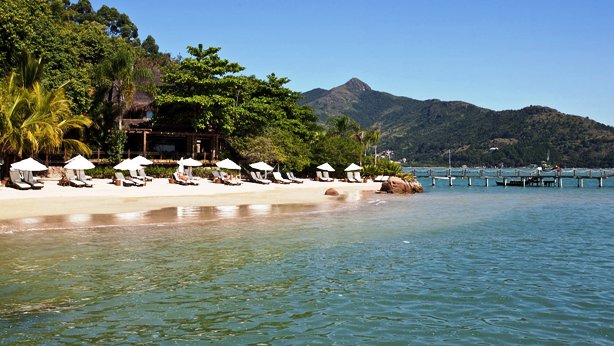 To accompany the exceptional menu, there is an extensive wine list offering more than 240 different labels, with examples from Brazil, Argentina, Uruguay, Chile, the United States, France, Spain, Portugal, Italy, Germany, South Africa, Australia and New Zealand.
None of the mealtimes have predefined cut-off times. Guests choose what and when to eat, with no time constraints.
Tip: Do not forget to try the resort's signature cocktail, The Hook, made with cachaça Gancheira, especially produced for the Ponta dos Ganchos Resort, and Phisalys, a fruit native to the Amazon, which is exceptionally smooth and aromatic, the perfect combination for the Cantinho da Veleza.
Categories: Abacos, Brazil, Santa Catarina, South America
Tags: Adventure Travel, Azores, Beach Vacation, Brazil, Buenos Aires, Emerald Coast, Emerald Villa Bungalow, Florianopolis, Governador Celso Ramos, Rio de Janeiro, Romantic getaways, Santa Catarina, Scuba Diving, Spa Vacations, United States