You also cannot miss having a picnic during the best time of the day in Santorini: sunset. With so many areas that offer panoramic views of the caldera, the houses perched on the top of cliffs, and the deep blue of the sea, an outdoor experience like this is truly worth the trip to Greece.

You can choose from settling onto a picnic blanket at Profitis Ilias in Imerovigli, the highest point on the cliffs, or at a small isolated beach near Oia. Marvel at the explosion of color and play of light as the sun prepares to set, and you can enjoy a delightful spread at the same time: sumptuous cheeses, olives, crisp breads, Greek dips, and the best red and white wines produced in the very same region.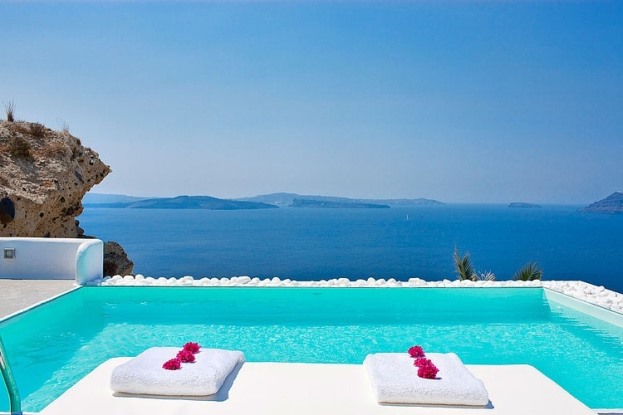 Santorini After Dark
Santorini has an active nightlife, centering around Fira and, to a lesser extent, Oia. The crowds are very bad in July and August, which are also the hottest months in terms of temperature. Try to schedule your visit in May or early June, or late August through September. This gives you the best of both worlds – great temperatures and lighter crowds.
Getting to Santorini
Santorini has its own airport with flights from Athens and elsewhere. It's also served by traditional ferries from many locations in Greece and the Greek islands. Santorini also enjoys a high-speed hydrofoil making regular stops on the island.
For an unforgettable vacation filled with exhilarating sights and captivating people, architecture and food, there is simply no other choice. Santorini private tours are perfect chances to see some of the best views in the world with your very own eyes.

Categories: Europe, Greece, Santorini
Tags: Adventure Travel, Aegean Sea, Athens, Beach Vacation, Black Beach, etraveltrips, Greece, Greece hotels, greece travel, Greece vacations, Historical site, Imerovigli, List of islands of Greece, Oia, Oia Greece, Red Beach, Romantic getaways, Santorini, Shopping, sightseeing