Cleo & Patek, also on West Broadway, deserves mention for its fine accessories collection, and if men's fashion is what you're looking for you'll find high quality clothing at Ralph Lauren, Tommy Hilfiger, and Reiss of London here, or just around the corner and down Spring Street, you can check out the latest J. Lindeberg collections.
Great restaurants are literally everywhere you turn in SoHo, and they are well-known for both the fine cuisine they serve and their stylish milieus. The French bistro Balthazar, the romantic new American cuisine of Savoy, and authentic Raoul's and Fiamma for Italian fare are all highly recommended. Along West Broadway you'll find celebrity hotspot, Cipriani Downtown, Barolo, and the inviting, often open-windowed façade and lively atmosphere at Felix. For Japanese cuisine two blocks over on Sullivan Street you can dine at Blue Ribbon Sushi.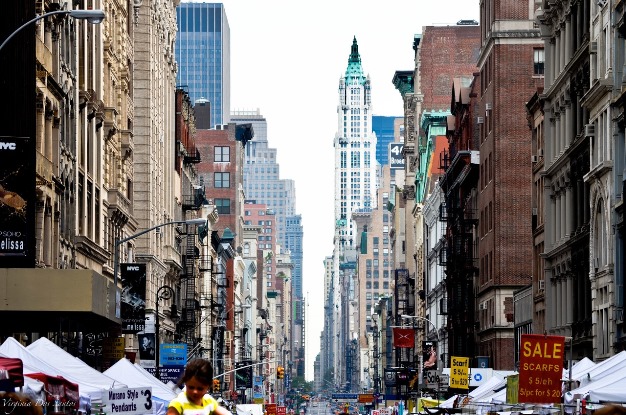 Beloved for its neighborly old world beauty and charm, and its nearly skyscraperless skyline, SoHo has also become a favored choice for luxury hotel dwellers, especially among those who wish to escape the hustle and bustle of midtown Manhattan. The Mercer Hotel is SoHo's foremost luxury boutique hotel and the first of its kind to offer an authentic taste of loft living.
At the lower end of West Broadway near Canal Street sits the noble SoHo Grand, a popular overnight choice for visiting celebrity clientele, and on the western side of SoHo lies 60 Thompson, a boutique hotel designed by famed interior designer, Thomas O'Brien.
Notable landmark architecture in the SoHo neighborhood, aside from the approximately 250 cast iron buildings (such as the E.V. Haughwout Building at 488 Broadway), include The Little Singer Building on Broadway, designed by Beaux-Arts trained New York architect Ernest Flagg in 1902; the six-story iron front building at 112 Prince Street designed in 1889 by Richard Berger; and lastly, New York's most peculiar subway map, an 87-foot long work of art consisting of concrete rods embedded in the sidewalk at 110 Greene Street which was created by Belgian artist, Francoise Schein, in 1986. You might also admire the five-story trompe l'oeil mural at 114 Prince Street, which is a longstanding two-dimensional cast iron façade—in paint.
Categories: Abacos, New York, New York City, USA
Tags: Bowery, Canal Street, City Vacations, Donald Trump, etraveltrips, Houston Street, Manhattan, New York, New York City, New York City Bars, NYC Dinning, Shopping, sightseeing, SoHo, Spring Street, Tommy Hilfiger, West Broadway