Surfing the Canadian Pacific Coast

As someone who is always cold, my first question when I met Catherine at Pacific Sands Beach Resort had to do with body temperature. Like a kid peering through a looking glass, I'd been studying the surfers from my beach house window—all rooms have an ocean view overlooking Cox Bay—itching to join their ranks, but the cold water-factor remained.
Would I feel a surge of sub-zero sea sloshing into my suit? Would my lips turn blue? Would I need to stand under a hot shower for a week to recover? No, no, and no. Shockingly, I was warm from the moment my neoprene-covered foot came in contact with the ocean.

"I came in '95 for a surf lesson and never looked back," Duane Bell, owner of homegrown Rhino Coffee House, told me when I stopped in for a cup of joe and a bite (or 10) of his house-made beer-glazed donuts. Twenty years later, the former big-city stock broker still prefers life in his wetsuit over his power suit.
The more locals I met, the more I realized that the people who surf Canada's coast are not on a mission to prove that surfing in cold water is cool (as in, rad). Their daily one-on-one with the ocean is beyond a bucket list check mark or shred cred; to them, it's a daily ritual like brushing their teeth (though, much more exciting and refreshing).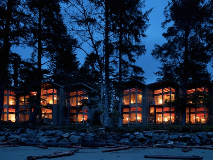 In Tofino, everyone from kamikaze kids to bold boomers ride waves. Since the first surf school sprung up in 1968, practicing "toes on the nose" or "hang 10" has become a local right of passage. Residents such as Robbie Ferguson, one of the best surfers in Canada and manager of Shelter Restaurant, take this tradition seriously. When not leading a team foodies serving a local catch of fresh wild salmon topped in herbs from Shelter's backyard garden, he mentors Tofino's next wave of junior surf riders through a sponsorship program set up by the must-eat address.
Categories: Abacos, Canada, Vancouver
Tags: Adventure Travel, Agence France-Presse, Alaia, Asia-Pacific, Association of Surfing Professionals, Australasia, Boardsport, California, Canada, Canada vacation, etraveltrips, Hawaii, Pacific Ocean, Surfing, Surfing Canada, travel, Travel Canada, Vancouver