The Chateau Sur Mer Newport, Rhode Island
Built as an Italianate style house that was a style popular at the time from simple, rough hewn Fall River granite, Chateau-sur-Mer is one of America's finest examples of lavish Victorian architecture of the mid 19th century. Seth Bradford was the architect for the initial estate built between 1851-1852. featuring exquisite Italian woodwork, Egyptian and Japanese Revival stenciled wall papers, and Chinese porcelains. Located on the scenic hilltop, the original owners sold the water-front property below it where The Breakers and Newport's other "Gilded Era" mansions were later built.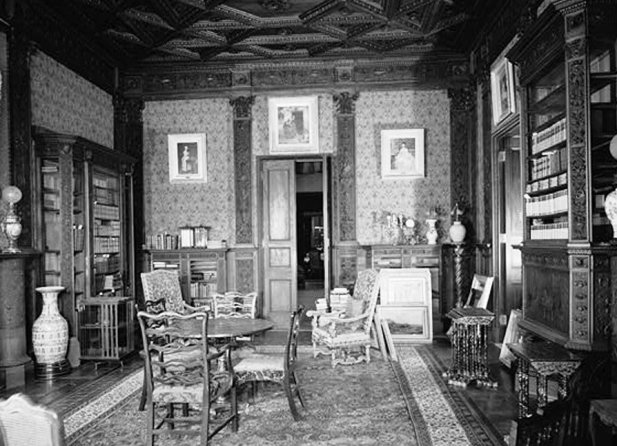 Wetmore furnished it with his collection of "strange and interesting" Chinese porcelain and lacquer furnishings from Asia that give the interiors so much of its rich opulence. Unlike many of the summer cottages that were beginning to be built in Newport in the 1850's, Chateau-sur-Mer was a mansion built as a year round home.
It was the scene of massive events, like the "Fete Champetre" in 1857 that was a huge country picnic for over two thousand guests. Three generations of the Wetmore family brought in the country's top architects and landscape designers to make Chateau-sur-Mer the most palatial mansion of its time in Newport.
William Wetmore's son, George Peabody Wetmore who would become Rhode Island's U.S. Senator inherited the mansion in 1862. In 1869 he married Edith Keteltas and commissioned architect Richard Morris Hunt to remodel the estate between 1870-1873 when he and his wife went on an extended European vacation. Hunt would make more additions from 1876-1880. He transformed the estate into a palatial Second Empire French chateau by adding a steeply pitched Mansard roof and ornate molded cornices and detailed copper creasting – introducing to America what would be major design trends in the latter half of the 19th century.
Categories: Abacos, Newport, Rhode Island, USA
Tags: Chateau-sur-Mer, Gilded Age, Historical site, Museums, Newport, Newport Rhode Island, Preservation Society of Newport County, Rhode Island, sightseeing, United States, William Shepard Wetmore