The Lighthouse Trail on Maine's coast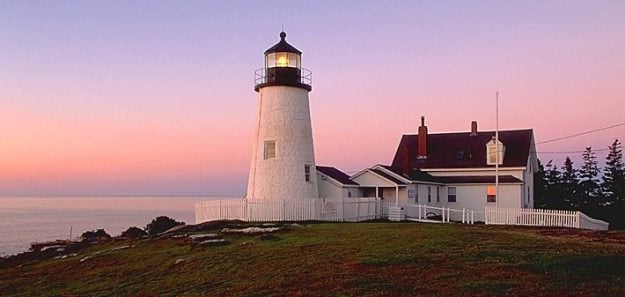 About ten miles east of Boothbay, the Pemaquid Point Light is situated at the top of a dramatic granite ledge extending into the Gulf of Maine. Exceptionally well preserved, with an on-site art gallery and Fishermen's Museum, it's one of the most-visited sites along the Maine coast. Visitors can climb the tower for incredible views, and if they're lucky they'll catch a distant glimpse of Monhegan Island, site of its own quaint lighthouse.
Seen as you head north towards Penobscot Bay, the Marshall Point Light guards the entrance to Port Clyde, a long-time artists' retreat, where painter Andrew Wyeth held his first one-man show in 1937. The 31-foot lighthouse tower is extremely photogenic, with a long wood-plank walkway connecting to its Colonial-revival keeper's quarters, which dates from 1895 and now houses a museum.
In the town of Rockland, the Rockland Breakwater Light sits at the end of a stone jetty nearly a mile long. In town, the Maine Lighthouse Museum houses America's best collection of lighthouse memorabilia, including an extensive collection of Fresnel lenses, the last word when it comes to lighting the seas.
Categories: Abacos, Maine, USA
Tags: Adventure Travel, Cape Neddick Light, Family vacations, Lighthouse, Maine, Marshall Point Light, Monhegan Maine, Pemaquid Point Light, Portland Head Light, Seguin Light, West Quoddy Head Light