The Surrey Hotel New York City
The look blended traditional elements (bedskirt, curtains, carpeting, tassels) with contemporary style (chocolate leather rectangular headboard; a white-skirted table lamp we loved). In short, the room sang in perfect tune with the classy, polished style of this Upper East Side neighborhood.
Even the bathroom had perfect pitch. The look was updated Downton Abbey – white marble, a generous washstand and an elegant mosaic tile inset on the marble floor. Though outfitted with a stall shower instead of a tub, the shower was generous with a stationary shower head and a hand shower, both excellent. We also liked the bathroom speaker so we could hear the TV when we washed up.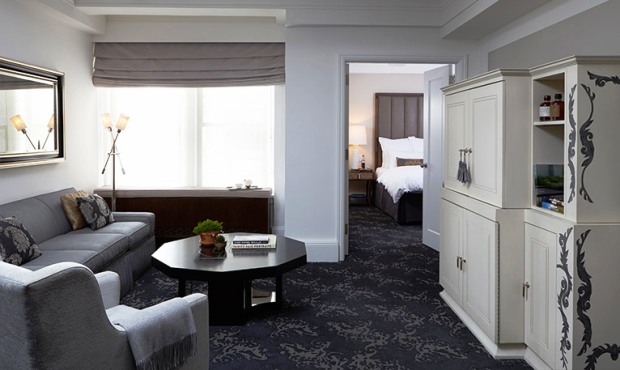 Bar and Dining:
Definitely not a poor relation, Café Boulud, the hotel restaurant, is a more relaxed, low-key incarnation of Daniel, uber-chef Daniel Boulud's flagship restaurant. The haute nouvelle French cuisine, with seasonal inflections, is as stylish as the clientele, who tend to include more locals than hotel guests. (It's a rich, pricey canteen if you're having all your meals there.)
The décor marries clean, modern lines with tradition (white tablecloths, fresh flowers on the tables). We breakfasted on a superb Peeky Toe Crab Benedict ($19), one of the best, most imaginative Benedicts we've ever eaten. Café Boulud cooks up room service and also supplies the nibbles at Bar Pleiades, the hotel's gorgeous black and white bar. With a spacious back room of tables whimsically numbered, elegant velvet chairs and the odd bold-face name socialite in the crowd, the bar is good looking and amusing. We gave the food a 10 (juicy beef sliders, an excellent arugula salad) but the drinks a 6 – too stingy. But the Old Fashioned is appealing if you like sexy drinks and don't mind paying  $22.
Categories: Abacos, New York, New York City, USA
Tags: Bette Davis, Boutique Hotels, Café Boulud, Central Park, etraveltrips, Hotel, Hotel Deals, Luxury Hotels, New York, New York City, New York City Boutique Hotel, new york city hotels, New York City Vacation, new york hotels, New York Vacations, NYC, Romantic getaways, Shopping, sightseeing, Surrey, The Surrey hotel, travel, travel deals, Upper East Side, vacation