Top 10 BBQ joints in the south
Big Bob Gibson Bar-B-Q, in Decatur, has won numerous awards and competitions for producing pork perfections. But what lands Big Bob on our list is the Bar-B-Q Chicken topped with Gibson's legendary White Sauce—a blend of mayonnaise, lemon, vinegar, horseradish, cayenne, salt, and pepper. If you've never tried an Alabama-style white sauce then there's no better place to give it a go than the place that invented the stuff back in 1925.
Georgia
Fat Matt's Rib Shack is a must for any BBQ-lover passing through Atlanta. BBQ and the blues are perfect pairing, and Fat Matt's serves up their lip-licking Q to live blues music every night of the week. Some of Atlanta's finest blues musicians perform in front of a Mt. Rushmore-inspired mural depicting blues legends B.B. King, Robert Johnson, Chuck Berry, and Muddy Waters instead of presidents.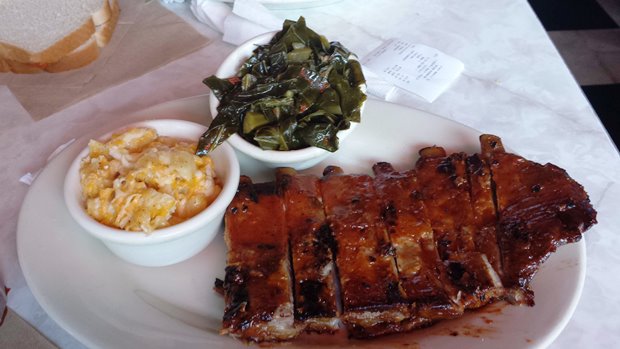 Mississippi
The Shed, in Ocean Springs, looks like a building with aspirations of becoming a shack. But as often the case in the BBQ world, the best food comes from the most unassuming places, and this joint is no exception. The Shed has been featured on the Food Network's "Diners, Drive-Ins, and Dives," and on the Travel Channel's "Man vs. Food." The combination of award winning whole-hog BBQ with live music makes The Shed the ultimate party atmosphere.
North Carolina
Wilbur's Barbecue, in Goldsboro, is an absolute must for anyone wanting to experience eastern North Carolina BBQ at its best. Presidents George H Bush and Bill Clinton have dined at Wilbur's, where whole hogs are slow-cooked over hardwood coals and moistened with apple cider vinegar seasoned with red chili flakes. Wilbur's vinegar-based sauce may just change your perception of what BBQ should be. You may never eat pork with a sugary tomato-based sauce again.
Categories: Abacos, Alabama, Georgia, Mississippi, North Carolina, South Carolina, Tennessee, USA
Tags: Alabama, Archibald's BBQ, Austin, Barbecue, BBQ, Big Bob Gibson Bar-B-Q, Blue Ridge, Cockeysville, Dreamland Bar-B-Que, Family vacations, Fat Matt's Rib Shack, Florida, Food, Fort Myers, Georgia, Maryland, Mississippi, Missouri, South Carolina, Sweatman's BBQ, Texas, The Shed, United States