Top 10 BBQ joints in the south
Viewfinder Tip: Read online reviews to find a BBQ joint that prepares pork to your preference. The key factors to look for are how it is cooked, how it is seasoned, and whether the sauce is mustard-, tomato-, or vinegar-based.
South Carolina
Sweatman's BBQ, in Holly Hill, specializes in cooking whole hogs over oak, hickory, and pecan wood for 12-14 hours a pop. By cooking the whole pig, chefs are able to keep the meat moist, and get it to absorb the flavors of the bacon and fat. Sweatman's has been featured on a number of Travel Channel shows and does enough business on Fridays and Saturdays that it is not necessary to open other days of the week. Plan your trip accordingly.
Tennessee
Wherever you drive in the state of Tennessee, do yourself a favor and take a detour to Memphis—even it it's hours out of your way. Memphis is the BBQ center of the universe and is home to some of the most legendary BBQ joints in the world.
Charlie Vergo's Rendezvous is located in an alley across the street from The Peabody hotel in the heart of downtown Memphis. Famous for its dry-rub ribs, Rendezvous is the synonymous with Memphis-style BBQ. The ribs are basted with vinegar during cooking, and the dry rub is applied just before they're brought to your table. They are so addictive, you'll want to eat them the bone.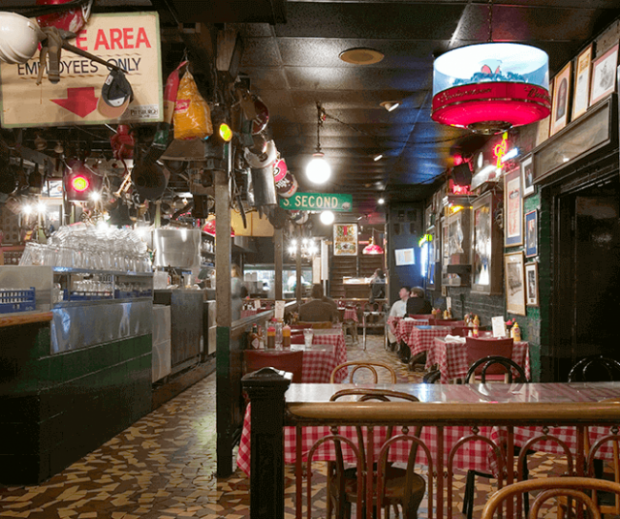 Southern BBQ comes in a wide variety of styles
Payne's BBQ is located in what appears to once have been a service station. Don't let its looks deceive you. The pulled pork topped with Payne's mustard cole slaw makes one of the best BBQ sandwiches you'll ever put in your mouth. If you give it to go, be sure and grab plenty of napkins—you're going to need them.
Categories: Abacos, Alabama, Georgia, Mississippi, North Carolina, South Carolina, Tennessee, USA
Tags: Alabama, Archibald's BBQ, Austin, Barbecue, BBQ, Big Bob Gibson Bar-B-Q, Blue Ridge, Cockeysville, Dreamland Bar-B-Que, Family vacations, Fat Matt's Rib Shack, Florida, Food, Fort Myers, Georgia, Maryland, Mississippi, Missouri, South Carolina, Sweatman's BBQ, Texas, The Shed, United States