Top 10 Chicago hotels for pizza fanatics
"The desk people were friendly and informative, the room was large and very clean, and not to mention, had the warmest blankets I had during my whole stay in Chicago…" reviewed one commenter, who was verified by Expedia.com. "There are many restaurants around, big chains like McDonald's and Dairy Queen, but also some local fare. Pauly's Pizza was the best pizza I've had in a long time…"
Mosey just .3 miles north of the hostel and Pauly's pizza can be yours! This joint crafts their pies from scratch and tops them off with the family's secret tomato sauce recipe. With gourmet, New York-style thin crust, Chicago-style deep dish, and stuffed pizzas, whatever your hankering, Pauly's has you covered.
8. The Whitehall Hotel – Fornetto Mei
Stay and play at The Whitehall Hotel, where famous faces such as Mick Jagger, Katharine Hepburn, and Paul Newman once lodged. This charming boutique hotel, located on Magnificent Mile, dazzles with marble floors, chandeliers, and imported Egyptian cotton linen.
"Lovely rooms, well priced, outstanding location, and the pizza from the restaurant is some of the best in the city!" Reviewed one Expedia.com commenter, while another reviewer wrote, "…Service is excellent, location is prime, and the pizza oven pizza is delicious."
Prep your palate for the flame-baked thin crust pizzas at the Whitehall's restaurant, Fornetto Mei. Italian for "beautiful little oven," this trattoria bakes its slices on an open flame, exuding the taste of the boot-shaped country. Red grapes, aged mozzarella, and chili oil give these traditional pizzas revamped bursts of flavor.
9. Renaissance Chicago O'Hare Suites Hotel – D'Agostino's Pizza and Pub
An airport hotel has never looked so good. Located fewer than 4 miles east of O'Hare International Airport, the Renaissance Chicago O'Hare Suites Hotel offers the comforts of home with spacious accommodations featuring separate bedrooms, living areas, and dining rooms.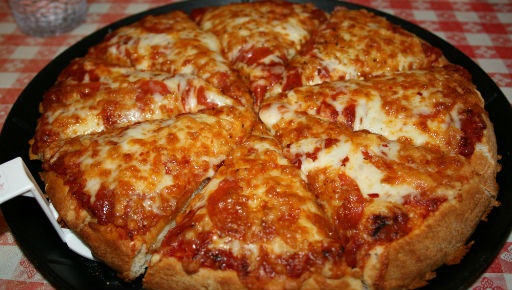 "My family and I took our vacation to Chicago wanting a very convenient way to get to the airport and to the major sites without having to rent a car. The Renaissance was just that…" an Expedia.com verified reviewer wrote. "The location of the hotel was also of walking distance to a grocery store for snacks, and D'Agostino's for Chicago-style pizza. My family of six really enjoyed their stay at the Renaissance."
Categories: Abacos, Chicago, Illinois, USA
Tags: Art Institute of Chicago, Augustine of Hippo, Blues Fest, Chicago, Chicago-style pizza, Cloud Gate, Family vacations, Food, Illinois, Lollapalooza, Magnificent Mile, Millennium Park, New York