Top 10 things to do in Paris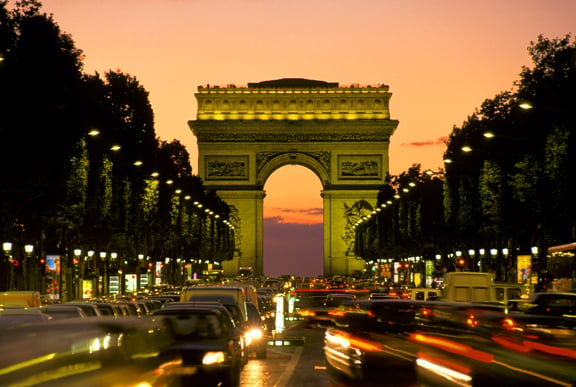 9. The Château de Versailles
Gilded ceilings, halls of mirrors, grand canals weaving through acres of manicured gardens—the extravagant splendor of Versailles is really a sight to see. Take the train out from the city—it's an easy, 30-minute ride—and step back into the era of Louis XIV, the Sun King, and the ill-fated and frivolous Marie Antoinette. If the weather obliges, picnic like a royal on the sprawling grounds, and don't miss a visit to Marie Antoinette's ornamental hamlet at the far end of the park. This fairy-tale farmstead, with its thatched roof cottages, animals, and orchards, is an idyllic slice of countryside fantasy and pastoral charm—totally contrived, of course (the building interiors are all marble finery and rococo), but alluring nonetheless. Cover even more ground with a bike tour; the gardens' 200-acre sprawl is a lot to cover on foot.
10. Picnic in a park
Ella Fitzgerald sang it best when she crooned, "I love Paris in the spring time. I love Paris in the fall. I love Paris in the winter when it drizzles. I love Paris in the summer when it sizzles." Any time of year, as soon as the sun comes out, locals and visitors alike swarm the city's parks, picnic baskets in hand. Hit a grocery store such as the famed La Grande Epicerie or a neighborhood market for supplies. Better yet, let a local lead you to the best market vendors, cheese shops, and bakeries to collect French products for an al fresco luncheon. Then find a comfy spot alongside the Canal St. Martin, on the hilly slopes of the Buttes Chaumont, fountain-side in the manicured Luxembourg Gardens, or at the foot of the Eiffel Tower on the Champ de Mars to enjoy the perfect Parisian pastime—la pique-nique.
Categories: Abacos, Europe, France, Paris
Tags: Champs-Élysées, Eiffel tower, etraveltrips, Family vacations, Moulin Rouge, Musée d'Orsay, Notre Dame de Paris, Paris, The Château de Versailles, The Eiffel Tower, The Louvre, travel