Top 5 rooftop bars in NYC
rooftop bars in NYC
230 Fifth
Rain or shine, 230 Fifth is renowned as one of the best rooftop bars in New York City. This two-floor watering hole allows summer guests to soak up the sun twenty floors above the ground, while those visiting in the chilly winter months can snuggle up and stay warm in provided plush red robes while huddled under a heated inflatable igloo. Regardless of the season, the reason you'll be there is to be treated to one of the best-unobstructed views of the Empire State Building. Your cup will overfloweth with the wine, beer, and cocktail selection, while the full food menu is nothing to scoff at.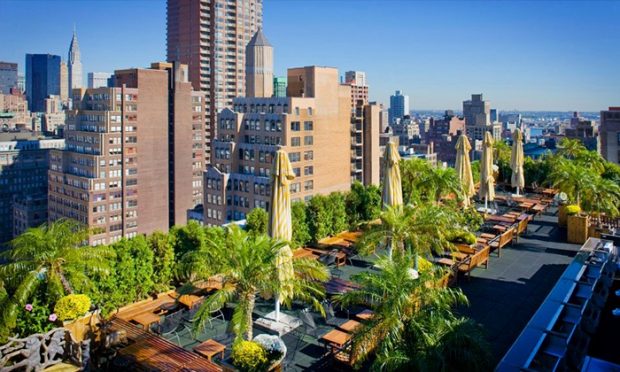 PH-D Lounge at Dream Downtown Hotel
Dream Downtown Hotel by itself is a magical building with a touch of surrealism and whimsy. The glass-bottomed pool serves as the ceiling for the lobby and the circular windows stud the metallic high-rise. The PH-D Lounge serves fine champagne and classic cocktails in a swanky bar that blends modern design with a rough-hewn wood look. Grab one of the benches along the railing and order 50 Shades of Bleu—50 Bleu vodka, Luxardo Maraschino, crème de violette, and sparkling wine.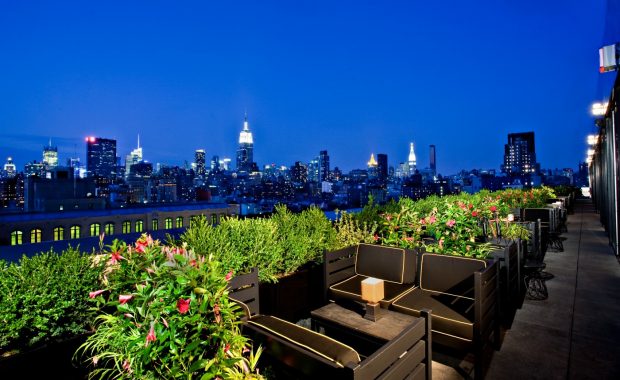 Loopy Doopy
For the ultimate view of the Statue of Liberty, come enjoy this rooftop bar in lower Manhattan. The Loopy Doopy perches atop the Conrad Hotel and serves a blend of urban and fun in each glass. Their signature frozen cocktails, like the Prosecco & Ice Pop cocktail, set them apart. Red Plum Sour and the Blackberry Gimlet are great examples of their frozen summer beverages for adults. At $18–$25, this bar is a great place to enjoy a cocktail and savor the view. Don't miss out on their Prosecco on tap either.
Categories: Abacos, New York, New York City, USA
Tags: 230 Fifth, Bars, Conrad Hotel, etraveltrips, Loopy Doopy, Manhattan, New York, New York City, NYC Bars, PH-D Lounge at Dream Downtown Hotel, Rainbow room rooftop NYC, The Press Lounge, Top 5 rooftop bars in NYC