Touring California's Central Coast
We took a short drive and noticed the scenery in this part of San Luis Obispo County is what really makes it appealing – the closer you are to the coast, the more Monterey pines appear. The combination of rolling hills, quiet winding roads and towering pines makes this getaway a feast for the senses.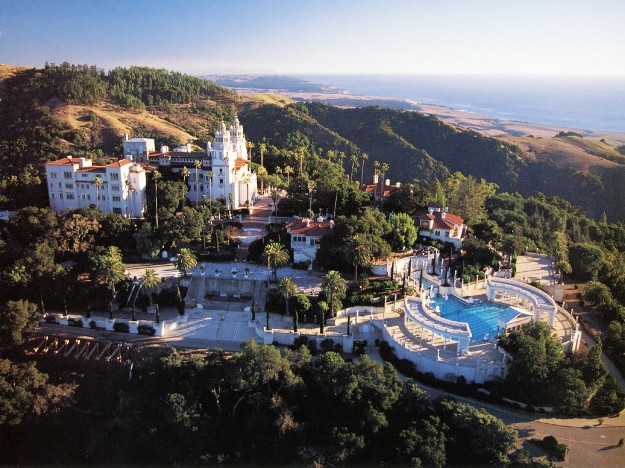 Hearst Castle
Maybe the biggest attraction for Cambria visitors is the Hearst Castle, just a half-hour drive up the coastline. Film stars like Clark Gable, Carole Lombard and Charlie Chaplain once boarded the train in Los Angeles to travel through the night up the California coast to reach the palatial hilltop estate of William Randolf Hearst.
Back in the 1920's and 30's, getting to Hearst Castle took a little bit of time. After traveling most of Friday night by train, Hearst's celebrity guests were met at the San Luis Obispo station and driven by motorcar on primitive roads another couple of hours north to the castle's location near San Simeon. These Hollywood guests – usually two or three dozen — would then begin a non-stop party that would culminate in another long journey home in order to be on their movie sets Monday morning.
Today, tourists arrive at the Hearst Castle by bus – yes, even if you drive your car, you won't get to the castle unless you're riding in one of the Park Service's motor coaches that shuttle visitors up and down the winding, narrow five-mile road to the castle. With well over a million annual visitors, the castle now has a fleet of buses and a bus station to rival that of a good-size city.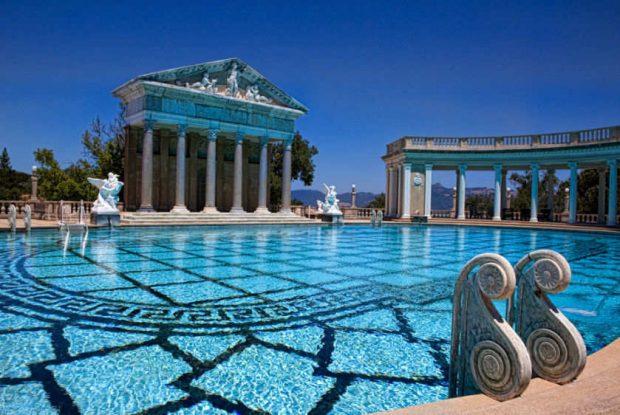 Several tours are offered, so you'll need to visit more than once if you're intent on seeing the entire estate. But we found the two-hour introductory tour to be quite thorough, allowing access to many of the more spectacular parts of the castle. The tour guides here are obviously selected for their storytelling skills and ours, in particular, offered numerous anecdotes about Hearst and his many guests, and about the great time and expense that went into creating one of our country's grandest homes.
Categories: Abacos, California, Cambria, San Luis Obispo, USA
Tags: California, California's Central Coast, Cambria, Central California Coast, etraveltrips, Family vacations, Hearst Castle, Hotels, Morro Strand State Beach, Pacific Ocean, Resorts, San Luis Obispo California, San Luis Obispo County, Touring, travel, vacation, William Randolph Hearst, Wine Country, Wine tours