Traveling to Beatiful Genoa
Genoa is home to so many attractions that we present a list, grouped by general area. Check off what you want to see and then with a map plan your own itinerary. We regroup the sites into three locations, south, north, and the port area plus our starting point. When we say south we mean south of Caruggi, Genoa's medieval center, the largest such district in all Europe. Its tiny cobblestoned streets are a-maze-ing. Walk around for a few hours; you won't be disappointed.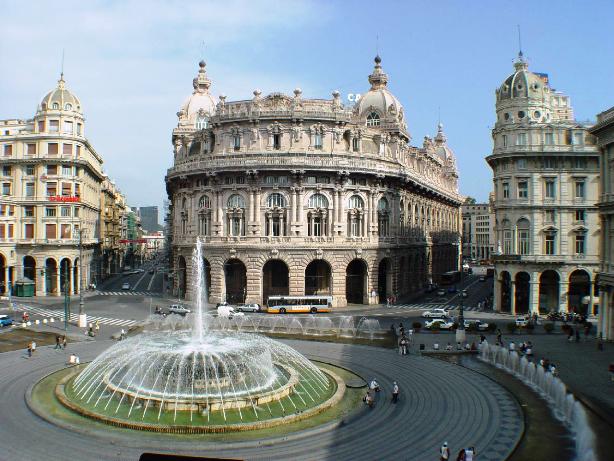 The Twelfth Century San Matteo Church just south of Caruggi contains the tomb of Andrea Doria, Genoa's second most famous sailor whose family ruled the area for several centuries way back when. The Piazza San Matteo was their stomping ground. The main palace was given as a gift to Andrea Doria for being such a good sailor, defeating many enemies. You should consider visiting several other churches south of Caruggi including the Twelfth Century Duomo (Cathedral) San Lorenzo (St. Lawrence) with its San Lorenzo Treasury Museum that hosts a medieval silver and gold collection.
The Twelfth Century twin towers known as Porta Soprana mark the spot where an ancient Roman road entered the city. According to legend Christopher Columbus's father was a gatekeeper there. His alleged boyhood home is nearby. Some claim that it's a reconstruction and only worth a few minutes of your time, if at all. But you should see the towers.
The Teatro Carlo Felice, Genoa's opera house, was originally built in the Nineteenth Century. Even though the famous opera composer Verdi spent about forty winters in Genoa, he had very little connection with this building. He declined to compose an opera for the 1892 commemoration of Columbus's first voyage to America, saying that at the age of nearly 80 he was too old. This reason sounds good to me except that during the following year his very successful comic opera Falstaff first opened. Every year the Niccolo Paganini Violin Contest is held in this opera house.
Categories: Abacos, Europe, Genoa, Italy
Tags: Christopher Columbus, City Vacations, Doria, Family vacations, Genoa, Italian Riviera, Italy, Liguria, Ligurian Sea, Mediterranean Sea, sightseeing