Traveling to Beatiful Genoa
Now we move north of Caruggi, Genoa's medieval center. We'll start in the same way as our southern tour ended, by looking at palaces. Via Garibaldi is a street chock full of palaces; I counted fourteen but I may have missed some little ones. Let's look at three of them. The Sixteenth Century Palazzo Doria Tursi is the largest palace on the street. Constructed for a Genovese banker it later belonged to the Doria family before becoming the town hall. The Sixteenth Century Palazzo Bianco (White Palace) was given to the city of Genoa in 1894 on condition that it become an art gallery. The neighboring Seventeenth Century Palazzo Rosso (Red Palace) has also become an art museum hosting works by Titian, Van Dyck, and many others.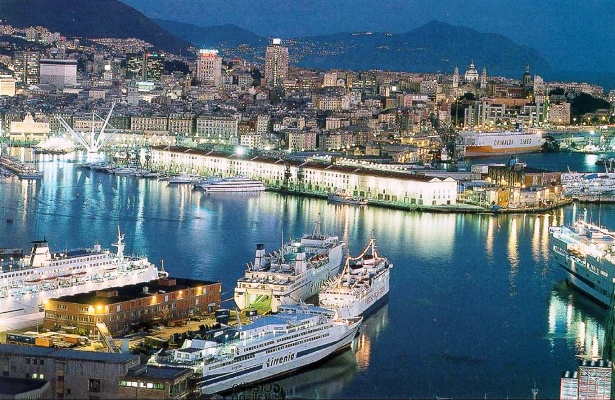 San Siro, Genoa's oldest church, was the city's cathedral from the Fourth up to the Ninth Centuries. As befits its age it's dark inside. The Sixteenth Century Baroque Bascilica of the Most Holy Saint Annunziata was built outside the city walls. It has a beautiful dome and lots and lots of great frescoes.
Genoa provides several distinctive transportation methods that are worth taking for their unique views. The Genova-Casella Railway goes from the northeastern Piazza Manin city center through the hilly, rugged and scenic countryside surrounding the city to the little town of Casella, population about three thousand, some nine miles (fourteen kilometers) to the northeast. Genoa's three different funicular (cable car) systems each offer great views of the hills that surround the city.
And now for the port. Even if you are not into visiting ports, you really should see Genoa's harbor. It's the largest port in all Italy, handling a full 10% of all port traffic within the country. It's fairly safe, especially if you don't wander around deserted areas at night. Since the 1992 celebration of Christopher Columbus's initial trip to America (he certainly didn't discover this hardly uninhabited part of the world) it has become a major cultural center. In October the Salone Nautico Internationale (International Boat Show) Europe's biggest takes place. We'll make a few stops to see some of the highlights starting with Il Bigo west of Caruggi and work our way north.
Categories: Abacos, Europe, Genoa, Italy
Tags: Christopher Columbus, City Vacations, Doria, Family vacations, Genoa, Italian Riviera, Italy, Liguria, Ligurian Sea, Mediterranean Sea, sightseeing