Valley of Fire State Park, Nevada
A road and well-used trails lead to the most prominent features of the park.
Atlatl Rock: A large panel covered with petroglyph's accessible via a viewing platform.
Arch Rock: A small natural arch on the crest of a large sandstone.
Beehives: Sandstone formations on the nearby cliffs that look like little caves.
Petrified Logs: Ancient petrified tree trunks.
Rainbow Vista: A colorful view over the badlands. It is one of the best places to view the sunset in the park. The colorful stones will glow in hues from Yellow to Purple.
White Domes Trail: A trail that leads through an old movie set (now mostly gone), colorful sandstone formations, and a small slot canyon. Don't miss this one!
Seven Sisters: Picnic areas in front of some mildly interesting rocks.
Cabins: Native sandstone cabins from the 1930's.
Elephant Rock: The most prominent formation in the park. It also adorns the park brochure. Don't miss it!
A few other great places require hiking the back country. Hike the wash near Clark Memorial to the north for about two miles and you will find a delicate sandstone arch.
I passed the exit to Valley of Fire many times on my way to and from Las Vegas, but I am glad I decided to stop here during my last trip to the Southwest. It certainly wasn't my last visit to this unbelievably beautiful State Park.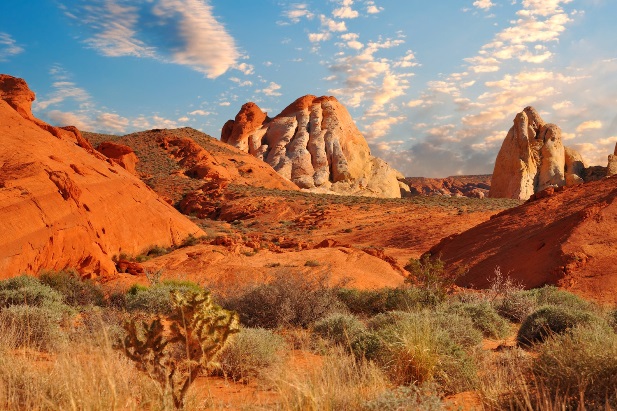 Useful Information
Fee
The entrance fee to the park is $6 per vehicle. I have seen people turn around because of this fee, which seems strange after driving all this way out here. It is well worth paying as the unique sights and outdoor activities will more than compensate you. Camping costs $14/night.
Tags: Adventure Travel, etraveltrips, Family vacations, Historical site, Las vegas, National Parks, nevada, Nevada Travel, Nevada vacation, Park, Petrified wood, sightseeing, St. George, State park, travel, Utah, Utah travel, Utah Vacation, Valley, Valley of Fire State Park, Visitor Center, Zion National Park