Visiting Beatifull Santa Cruz California's
If you have the opportunity, we'd suggest a midweek visit to Santa Cruz. That's what we did and, while it's not exactly a ghost town during the work week, there do seem to be plenty of wide-open spaces to explore with little or no concern about traffic. Santa Cruz motels and inns had big empty parking lots during this January visit, and we're told all of that changes on weekends.
Our base of operations was the Hilton Scotts Valley, a good choice for travelers who want their lodging a little ways away from the bustle of the beach. It's just a 10-minute drive from Scotts Valley to the main tourist attractions in Santa Cruz so it's not at all remote. Yet this particular hotel offers almost double-size luxury rooms with all of the Hilton amenities and, we might add, some of the most courteous and helpful hotel employees we have encountered.
Driving into Santa Cruz, you first wind your way through the downtown area where it soon becomes apparent that this is a beach city in every sense of the term. Like many other coastal cities, Santa Cruz does attract down-to-earth non-conformists who, for example, don't have any hesitation using hair colors that looked like they were chosen from a box of crayons. Think about your worst fashion nightmare for your teenage kids, and that's what you sometimes see on the streets of Santa Cruz ' which, of course is part of the charm. You don't travel just to see places exactly like home.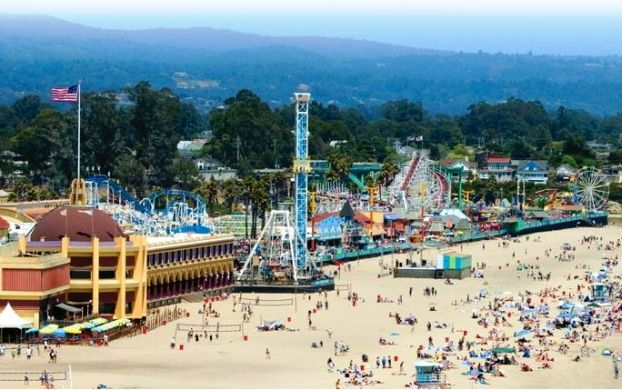 Out on West Cliff Drive, where the views from these coastal bluffs are painting-perfect, you encounter the surf crowd. On any given day, dozens of free-spirited surfers are paddling out to ride some of Northern California's most challenging waves. Long, narrow concrete stairways give the surfers easy access to the water not far from where the waves break. On the bright, sunny day we visited, maybe half of the pedestrians along West Cliff Drive were carrying surfboards.
Categories: Abacos, California, Santa Cruz, USA
Tags: Adventure Travel, Beach Vacation, Bigfoot, California, Family vacations, Northern California, San Francisco, Santa Cruz, Santa Cruz Beach Boardwalk, Santa Cruz California, United States