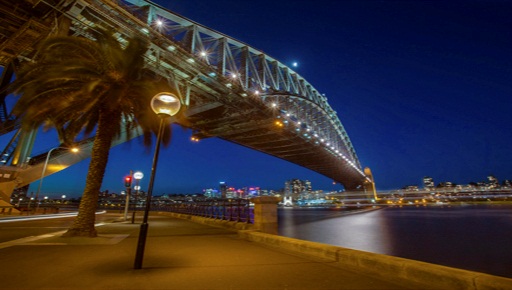 The Opera House
While the Harbour Bridge may be one of the most recognizable structures on Earth, the Sydney Opera House is definitely one of the most well-known buildings on the planet, rivaling famed landmarks such as the Eiffel Tower and the Taj Mahal. When we think of Australia, we instantly think of the opera house; it's the landmark that is shown most often on news programs and documentaries about Australia. Admire the architecture, or, if you time it right, catch a performance or take a tour of its massive shell-like pods that look out over the beautiful Sydney Harbour.
The waterfront along this area is filled with more restaurants and eateries, and you can stop for lunch or ice cream and refill your water bottle before moving on with your walking tour.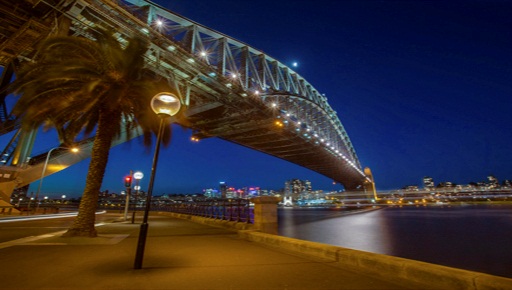 Under the Sydney Harbour Bridge
Royal Botanical Gardens
From the Opera House, it's a nice stroll to the Royal Botanical Gardens. We're not normally ones to enjoy walking through gardens, but the Sydney gardens are worth a closer look. This quiet oasis is filled with more than 17,000 tree and plant specimens from around the world. Admission is free and visiting is the perfect way to spend an afternoon strolling the many gardens, quiet ponds, picturesque buildings, and pavilions. The Royal Botanical Gardens also is a great spot for a picnic or even an afternoon nap! We loved the long seawall curving along the water to Mrs. Macquarie's Chair, a promontory from which we snapped a sunset photo of the Sydney Opera House and Harbour Bridge lit up in a colorful display.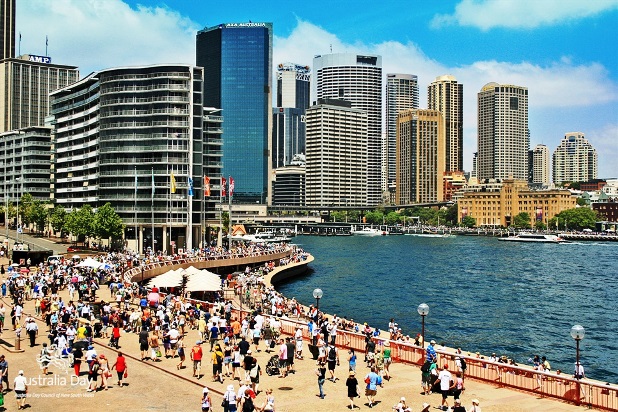 Walking back to our hotel through downtown, we made our way to Circular Quay, where restaurants line the waterfront. Here we decided to choose a romantic dining spot for the evening. There are many along the Quay and it took us forever to decide, but that was the entire point. The romance of walking arm-in-arm along one of the most beautiful waterfronts on Earth was something we wanted to savor and enjoy. We weren't in Sydney for very long, but we were determined to make the most of what we had, and we did just that.
Categories: Abacos, Australia, Sydney
Tags: Adventure Travel, Australia, Circular Quay, Circular Quay railway station, City Vacations, Darling Harbour, Eiffel tower, etraveltrips, Family vacations, Historical site, Museums, Sydney, Sydney Harbour Bridge, Sydney Opera House, travel, Vivid Sydney