Washington D.C. Art Museums
The National Building Museum is housed in the former home of the U.S. Pension Bureau, whose Renaissance-style Great Hall is among Washington's most impressive spaces, with massive Corinthian columns supporting its 159-foot ceiling. No wonder it has been used as the site of 14 presidential inaugural balls.
Resembling a cylindrical tank, the Hirshhorn stands out among its Victorian and neoclassical neighbours. The museum had its birth as the private hobby of financier Joseph H. Hirshhorn, who began collecting modern art in 1918 and by the 1960s had accumulated holdings that spanned the breadth of modernism. Today, the circular galleries hold works by Picasso, Giacometti, de Kooning, Pollock, Warhol, Matisse, Rodin, Francis Bacon, Edward Hopper and hundreds of others.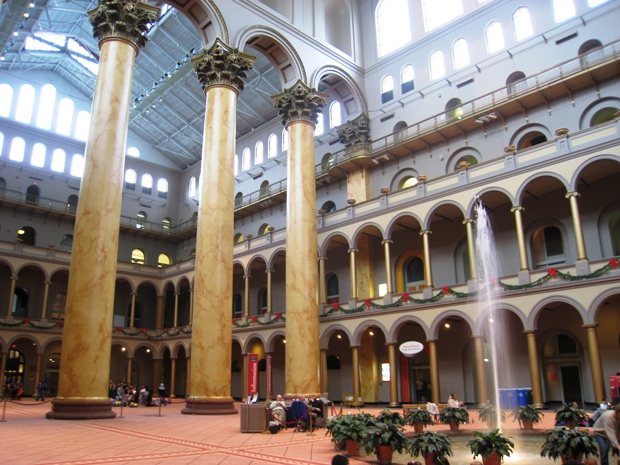 Further afield from the National Mall, the small, intimate Phillips Collection was the country's first modern art museum, opened by collector Duncan Phillips Jr. in a wing of his beautiful Dupont Circle home in 1921. Within ten years, his collection had grown to the point that his family was forced to move out. The place remains homelike, with works displayed in carpeted, oak-panelled galleries.
Last but certainly not least, the National Gallery of Art was a gift to the nation from former Secretary of the Treasury Andrew W. Mellon, who donated both the money for its construction and his personal art collection as its nucleus. The European and American painting and sculpture is among the world's finest, spanning from the 13th and 18th centuries (respectively) through to the early 20th.
For more information visit the Washington DC website
Categories: Abacos, USA, Washington DC
Tags: Corcoran Gallery of Art, Edward Hopper, etraveltrips, Museums, National Gallery of Art, Phillips Collection, Renwick Gallery, Smithsonian American Art Museum, travel, Washington, Washington DC, William Wilson Corcoran, Winslow Homer