What is a perfect day in the Riviera Maya?
2. Put on your swimsuit and either:
a. Go to the private nature park & swim in a cenote or kayak down to the beach. Tres Rios Resort is refreshingly unique: 326 acres of pristine tropical rainforests intersected by three winding freshwater rivers, decorated by ten fascinating cenotes (cave-like sinkholes with natural wells), home to 120 species of plants and 90 species of animals.  It is the only nature park in the Yucatan Peninsula that includes three distinct ecosystems: jungle, mangrove forest, and coastal dunes.
b. Jump into one of the refreshing pools after having a delicious tequilajito*.
Sip refreshing cocktails at the VIP and adult-only areas by the pool, or enjoy watching children play on the beach. The open bar service at Hacienda Tres Ríos offers a wide variety of premium domestic and imported alcoholic beverages that add to your enjoyment of a dream vacation in the Riviera Maya. * Try a traditional mojito, with a Mexican twist: tequila
c. Book the Sense Adventure tour, a journey through nature & your senses. Walking gingerly along a path in the nature park's tropical rainforest, this brief Sense Adventure Tour heightens the senses. Primarily, four of a person's five senses are enhanced because before the journey begins, visitors are blindfolded. Conceived as a temporary escape from the routine preoccupations of daily life, this journey is a unique way to unwind and experience nature.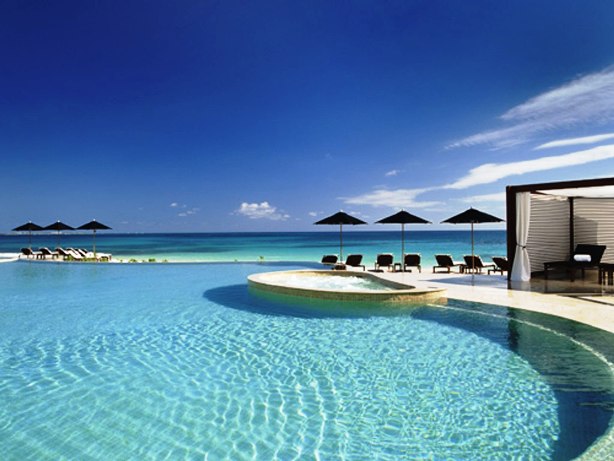 3. Let yourself be pampered with a signature massage at the spa
Relax, refresh your mind, rejuvenate your body, and cleanse your soul. Treat yourself to a number of signature treatments and benefit from both modern spa technology and the Mayan wisdom of the past. Our mission is to create an environment of absolute comfort and relaxation where health represents the most vital achievement. We offer a unique experience where all the senses are balanced by renewing, revitalizing, refining, and relaxing in a safe, clean, and beautiful place. We promote quality personalized service, friendly and warm, dedicated to purifying the body, balancing the mind, and uplifting the spirit.
Categories: Abacos, Mexico, Playa del Carmen, Riviera Maya
Tags: All-inclusive resort, Beach Vacation, Destination weddings, Family vacations, Hacienda Tres Ríos, mexico, Playa del carmen, Resorts, Riviera Maya, Romantic getaways, Top Hotels, travel deals, Tres Rios Resort, VIP, Yucatán Peninsula