Antigua: Curtain Bluff Antigua, West Indies
Flanked by water on both sides, Curtain Bluff sits on a rocky promontory (bluff) that juts into the sea between two beautiful beaches. One is calm, ideal for swimming and water sports; the other beach is washed by ocean surf. 72 rooms and suites, all with staggering seascape views, are spread out along the Surf Beach and up the bluff.
There are two restaurants: the open-walled Tamarind Tree serving breakfasts and candle-lit dinners, and the Beach Café & Bar, where barefoot-casual lunches are enjoyed one step from the sand and a few feet from the water's edge.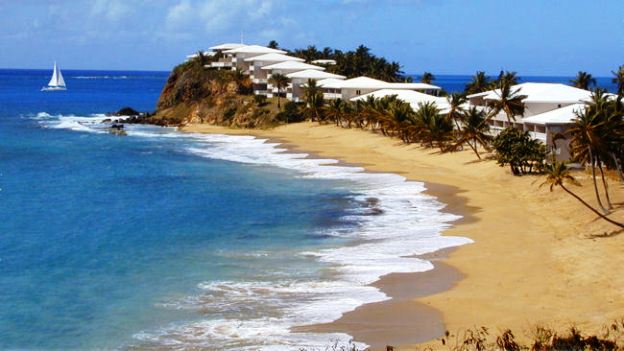 Each of the seventy-two suites and rooms, peppered atop the bluff, are all-inclusive, and the amount of activities on offer is astounding. You'll enjoy four tennis courts all floodlit, yoga, squash, pool, croquet and an extensive range of water sports (both motorized and non-motorized). Complimentary equipment is offered, as is instruction, for all of your water sport needs including windsurfing, Sunfish Hobie Cats, sea kayaks, water-skiing, snorkeling and scuba diving. For certified divers the equipment will also be included.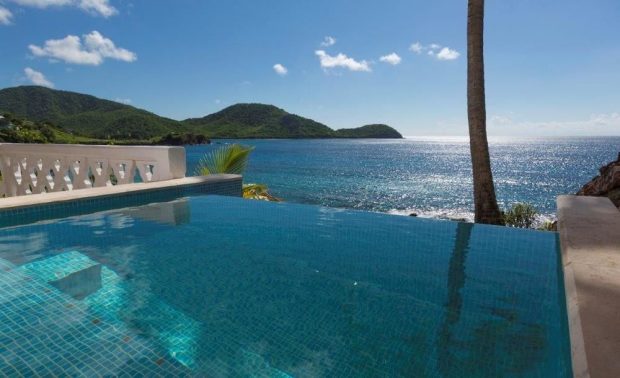 The spa is a huge 5,000 sq foot in size and is situated on the very edges of the shore, with treatments conducted outdoors with the sea oscillating in the background.
To cap off a stay in this exquisite resort, you'll be able to indulge in a few extra special luxuries like Cuban cigars, exquisite wines and spa treatments. It's all included in the rates, and shows great value for your holiday in the Caribbean. You'll truly experience a slice of luxury!
Curtain Bluff Accommodation
On the Beach
Deluxe Room – Curtain Bluff's most affordable accommodations, the 18 Deluxe Rooms fill a two-story Caribbean-style villa right on Surf Beach, a short walk down a shaded pathway from the bar and restaurant. 9 rooms are on the beach level, with spacious terraces that lead straight out on to the sand. Spread out on the floor above, nine more have verandas looking out over the sand and sea to the distant headland. All are decorated in a colorful West-Indian style, with contemporary dark-wood furniture, white bed covers and colorful accents that evoke the colors of the sea.
Categories: Abacos, Antigua, Caribbean
Tags: Antigua, Antigua and Barbuda, Antigua Vacations, Beach, Caribbean, Caribbean resort, Curtain Bluff, etraveltrips, Executive Suite, Hotel, Hotel Deals, Hotels, Jacuzzi, Junior, Luxury Hotels, Montserrat, Resorts, St. John's, travel, travel deals, vacations