Luxembourg was founded over 1,000 years ago and became a nice, neat and lively city. A wide variety of architectural patterns, bridges, cones and spikes of palaces and churches, monuments, parks, buildings of different periods and styles form a harmonious ensemble. The capital is the cultural center of the Duchy. Tourists will be delighted to visit the National Library, the Municipal Theater, the Conservatory, the Symphony Orchestra, Luxembourg Radio, and the film studio.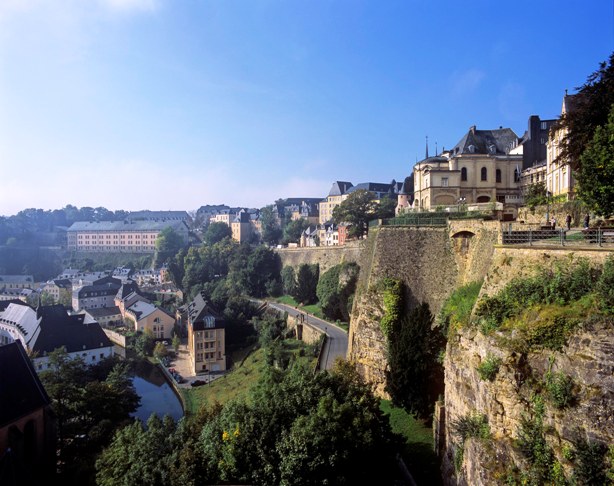 Particular attention should be paid to the National Museum, which gathers many of the exhibits including a marble bust of Septimius Severus, bronze statues of the Roman era, tombstones and fragments of medieval sculptures, the collection of minerals, exhibits of decorative and applied arts, and the beautiful paintings of German and Dutch painters.
In addition to the National Museum, the city is famous for many other museums and art galleries, such as Luxembourg City History Museum, the Museum of Natural History, the Museum of Folk Life, the Museum of Weapons and Fortifications, the Museum of Ancient Musical Instruments, the Municipal Art Gallery and others.



Luxembourg is also a very beautiful city. The two rivers, Petrus and Alzeta, divide Luxembourg in two parts. In the upper town, you can see the houses built in Gothic style, the steeples and the towers against the background of cliffs. In view of this particular location, the city's 111 bridges play a special role in the architectural outlook of Luxembourg. In the center of the upper city, one can see the beautiful residence of Grand Duke.
The palace with elegant turrets and a quaint faade is built in the Moorish style, in harmony with the House of the Parliament and the City Hall, built in 1830 in the best traditions of classicism. The city's main square looks even more gorgeous due to the Baroque cathedral of Notre Dame. In addition to the above mentioned monuments, the attractions of the Upper Town include the ruins of the Roman watchtower, the rock chapel of St. Kieran, the Gothic cathedral of Saint-Michel, the Palace of Justice and many others.
Categories: Abacos, Europe, Luxembourg
Tags: Europe, Family vacations, Historical site, Luxembourg, Museums, sightseeing