Old Bahama Bay Resort West End, Grand Bahama, is the ultimate getaway for families, fishing enthusiasts and couples looking for that perfect out of the way spot for romance, or to tie the knot. Combining Bahamian resort charm and island luxury, Old Bahama Bay™ features 67 junior suites and 6 spacious two bedroom suites as well as a 72 slip port of entry marina.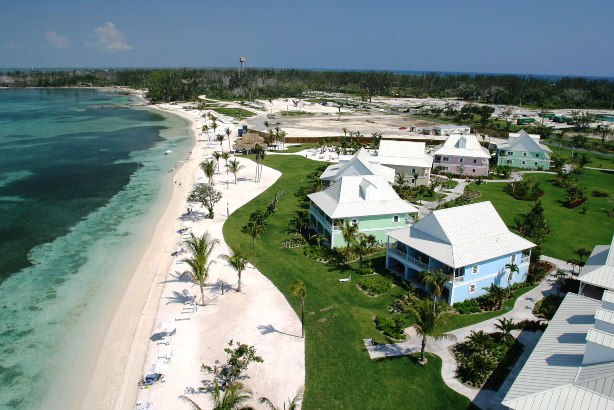 For activities, we offer massage services, bicycles, fitness center and some of the region's – finest fishing, snorkeling and boating activities. Our 4,000 sq ft swimming pool contains an infinity edge and lounging area with massage jets – perfect for overlooking the beach.
Situated on the western-most tip of Grand Bahama Island, the resort is just 55 miles due east from Palm Beach, Florida.
Old Bahama Bay™ has a barefoot elegance ambiance with an out-island remote feel, but with the convenience of an international airport and major destination amenities, all just 26 miles away. This Grand Bahama Island resort also offers a full-service and an official Bahamas port-of-entry marina.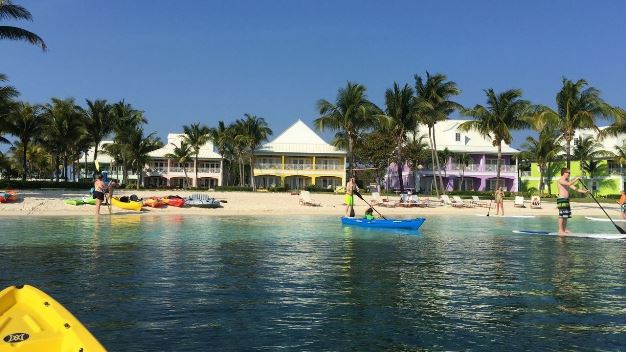 Accommodations
The accommodations at Old Bahama Bay™ are unlike any other – perfect for families or just the two of you. Old Bahama Bay™ offers suites where the designs are exquisite and sure to please even the most discriminating traveler. The 550 sq. ft. Junior Suites come in a choice of king or double queen beds, and the two bedroom suites are the ultimate in luxury and elegance. All suites have complimentary Wireless Internet service.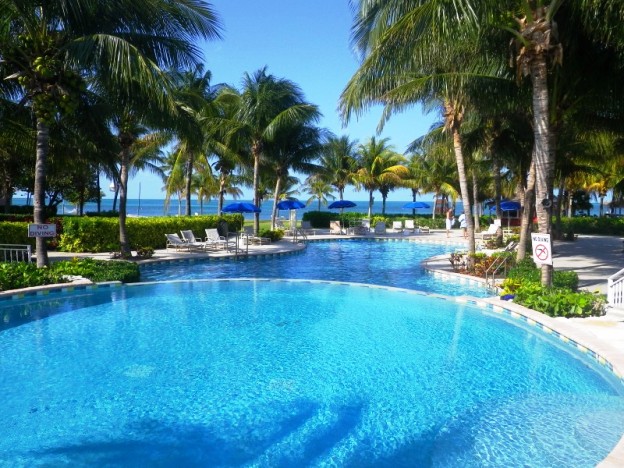 Dining
Bonefish Folley's Bar & Grille
has a commanding view of Old Bahama Bay™'s expansive marina.  As welcoming as the bone fishing legend himself, Israel "Bonefish Folley" Rolle, the eatery beckons patrons hungering for native Bahamian cuisine.  Be it signature 'Pieces of Eight Conch Fritters', 'Siboney Conch Chowder', Grouper Piccata 'Bahama Bay', or 'Bahamian Rum Cake', patrons can enjoy mouthwatering delicacies a midst island charm.
Dark wooden tables are adorned with handmade straw place mats and Bahamian Androsia-print table napkins, and guests are waited upon by Androsia-clad servers with welcoming smiles. Black & white photos of its namesake, "Bonefish Folley", peer from the restaurant's walls.  There is always a chance of meeting this living legend who often drops by, regaling customers with fish tales.  Like the man himself, Bonefish Folley's Bar & Grille offers Legendary Fishing, Food & Spirits.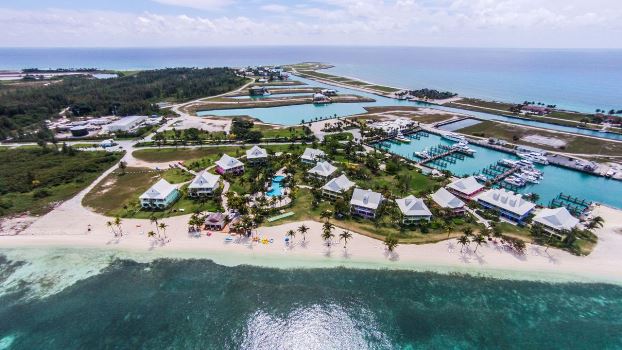 Teaser's Tiki Bar
Set between the  freshwater swimming pool and the water's edge of the North Beach, Teaser's service ensures you are never more than a few steps away from a refreshing tropical drink, light snack, or delicious breakfast and lunch. Teaser's offers seasonal BBQs with live entertainment and bonfires.
Location
West End, Grand Bahama Island
Old Bahama Bay™ is located in the historic village of West End, Grand Bahama Island, approximately 25 miles west of Freeport. West End is approximately 55 miles due east of Palm Beach, Florida.
Access by Air
Scheduled air access is via Grand Bahama Island International Airport in Freeport (FPO), serviced by American Eagle, Continental Connection, Bahamasair, as well as several scheduled and charter operations. Check with your travel professional, or the Old Bahama Bay™ reservation agents for the latest flight information.
Access by Sea
Private boats can enter The Bahamas at the Old Bahama Bay™ Marina, an official Port of Entry with on-site Customs and Immigration. Numerous cruise ships call on Freeport and Port Lucaya, with many making the passage from Florida in less than five hours. More information on sea access is available in the Marina pages.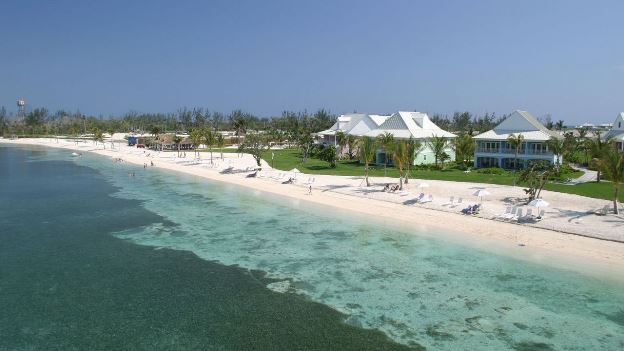 Bayshore Road, West End, Freeport F-42546, Bahamas
Phone:+1 242-350-6500