A trip to California's Central Coast is all about replenishment and reflection and an appreciation of the spectacular natural beauty here that never seems to grow old. And what better place to get a new perspective on your daily life than a storybook cottage footsteps from the pounding surf and amazing energy of the Pacific Ocean?
If long walks along a driftwood-strewn beach are your idea of a trip to the sea, then Moonstone Beach in Cambria is probably a good candidate for your next outing to the California Coast. Cambria is a place where you can spend hours each day walking – on the beach, on the boardwalk and through a quaint, historic artist's colony chock-full of art galleries as well as unique shops and good restaurants.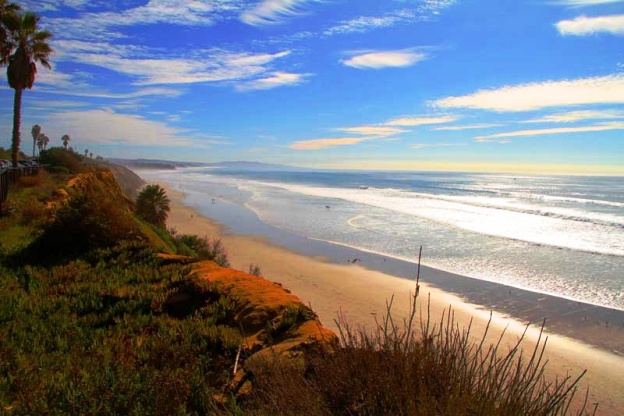 Cambria is in San Luis Obispo County and located in an area that gives visitors several options for short day trips. The wineries are just a few miles east, Hearst Castle just a few miles north. Some of California's best beaches are a short drive to the south. And San Luis Obispo is just a few miles south and inland.
On our most recent trip to Cambria we discovered a charming group of cottages on Moonstone Beach that seem especially well suited to honeymoons or romantic getaways. There are just three "Moonstone Cottages" built on a small lot directly across the road from some of the best areas to explore on Moonstone Beach (so named because of the semi-precious agate and jasper stones that can be found in the sand). The cottages are not part of a big resort so you won't be sharing your getaway with other travelers. Aside from seeing their vehicles parked in front of their cottages, we never even saw our neighbors the entire time we were there.
Each of the cottages is perfectly decorated with a lot of attention to detail. They're not huge, but quite adequate for a couple and have plenty of room to move around. We stayed in the Seascape, the cottage closest to the ocean with the best view, which included a fireplace and mini-kitchen with a refrigerator, microwave, sink and counter space. Across from the queen bed with its wrought-iron frame was a gas fireplace and, as is common with small cottages like this, an armoire eliminated the need for a closet. A small white table for two was perfect for enjoying the breakfast that arrived in a basket on our doorstep. A flat-screen TV and DVD player were on a small marble-topped desk, and marble showed up again in the bathroom vanity and shower enclosure. The shiny dark cherry-wood floor, along with the updated furnishings, created an overall mood of simple elegance.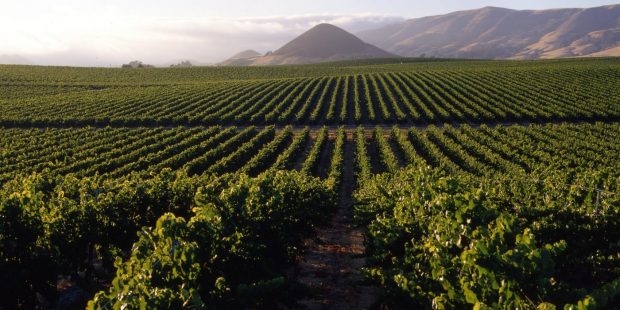 Outside, a well-maintained English garden added to the storybook feel and a small patio, chairs and table were available for simply sitting and watching the ocean surf and the visitors walking the nearby beach trails. A mature cypress tree framed the cottage, completing the illusion this little lodging is straight out of Hansel and Gretel.
Along this special part of the California Coast, the walks are the thing. It's said you can walk entirely around the town of Cambria, including lengthy sections of a first-class boardwalk skirting the shoreline and complete this circumnavigation in about four hours. We settled for good long beach walks where we found plenty to explore including tidepools, small caves, interesting rock formations, abundant driftwood and, of course, the constant backdrop of the ocean waves crashing on shore with incredible fury.
We also walked the town itself, enjoying the many galleries and historic buildings such the Squibb House, originally built in 1877. Shops downtown are often located in historical buildings, or have motifs designed to highlight the historical nature of the village. Some shops are quite stylish and are located in relatively new shopping centers with historic designs.
We took a short drive and noticed the scenery in this part of San Luis Obispo County is what really makes it appealing – the closer you are to the coast, the more Monterey pines appear. The combination of rolling hills, quiet winding roads and towering pines makes this getaway a feast for the senses.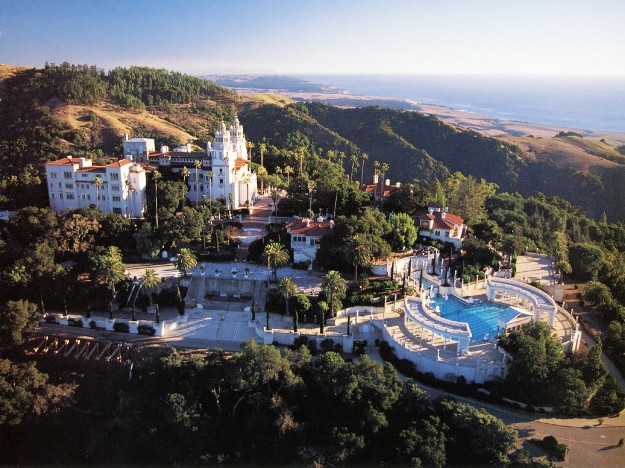 Hearst Castle
Maybe the biggest attraction for Cambria visitors is the Hearst Castle, just a half-hour drive up the coastline. Film stars like Clark Gable, Carole Lombard and Charlie Chaplain once boarded the train in Los Angeles to travel through the night up the California coast to reach the palatial hilltop estate of William Randolf Hearst.
Back in the 1920's and 30's, getting to Hearst Castle took a little bit of time. After traveling most of Friday night by train, Hearst's celebrity guests were met at the San Luis Obispo station and driven by motorcar on primitive roads another couple of hours north to the castle's location near San Simeon. These Hollywood guests – usually two or three dozen — would then begin a non-stop party that would culminate in another long journey home in order to be on their movie sets Monday morning.
Today, tourists arrive at the Hearst Castle by bus – yes, even if you drive your car, you won't get to the castle unless you're riding in one of the Park Service's motor coaches that shuttle visitors up and down the winding, narrow five-mile road to the castle. With well over a million annual visitors, the castle now has a fleet of buses and a bus station to rival that of a good-size city.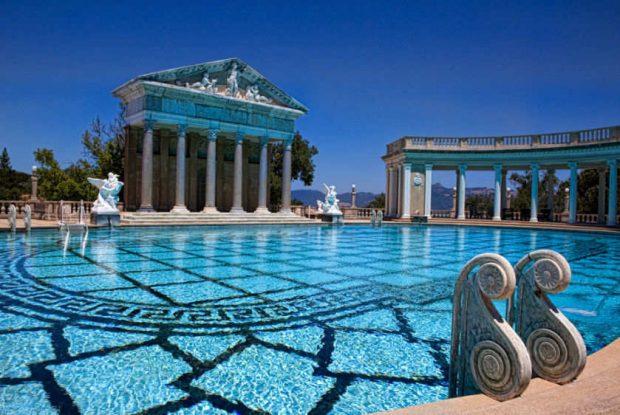 Several tours are offered, so you'll need to visit more than once if you're intent on seeing the entire estate. But we found the two-hour introductory tour to be quite thorough, allowing access to many of the more spectacular parts of the castle. The tour guides here are obviously selected for their storytelling skills and ours, in particular, offered numerous anecdotes about Hearst and his many guests, and about the great time and expense that went into creating one of our country's grandest homes.
Visitors to the castle marvel at the indoor and outdoor pools – the Neptune pool took 12 years to build — as well as the architecture, gardens and fountains. The introductory tour gives a good view of the main house and its interior including sitting rooms and dining areas that are larger than those found in many hotels. Art and antiquities are everywhere, and the sweeping view of the ocean and surrounding countryside is just as spectacular as anything you find on the grounds.
Other beach areas
Heading back down toward Cambria and then south, you'll find more than 80 miles of beaches are ready for exploration, each just a little different than the one preceding it. Driving Highway 1 along the coast is a kaleidoscope of colorful beach scenes that offer everything from wide, sandy beaches for sun worshipers to craggy shoreline perfect for finding tide pools and various forms of sea life.
Driving the coastline, one cannot help but notice the exceedingly wide Morro Strand State Beach with Morro Rock in the background. Kayaking along this bay is popular and the beach is so broad that there's plenty of privacy when you get ready to park your beach towels or chairs.
Pismo Beach is one of the most popular in the area and offers a pier that visitors can fish from. Nearby is a small but busy shopping district with restaurants, shops and other attractions. And down the beach a ways is the only driveable beach area in California, perfect for renting an all-terrain vehicle. Also nearby is the Oceano Dunes Park, set aside for off-highway vehicles as well as camping and other beach activities.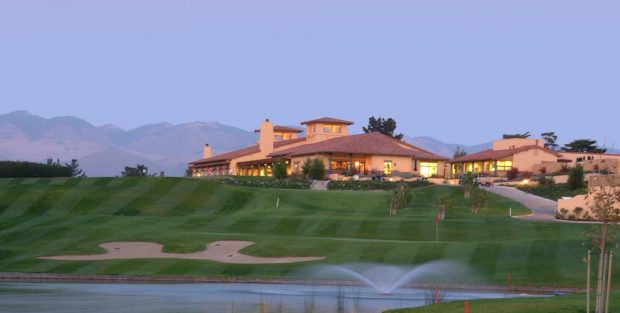 AT A GLANCE
WHERE: Cambria is midway between Los Angeles and San Francisco along the Central California Coast.
WHAT: Cambria is a unique vacation destination because it offers the beauty of the beach, but enough nearby attractions such as Hearst Castle and the Paso Robles Wineries to offer much more than the usual beach activities.
WHEN: Year-round.
WHY: The area is easily accessible from L.A. or San Francisco and offers some of California's best coastal scenery.
HOW: For more information on Cambria, contact the Cambria Chamber of Commerce at 805-927-3624 or go to www.cambriachamber.org.
For more information on Moonstone Cottages, call 805-927-1366 or go to www.moonstonecottages.com.
For more information on Hearst Castle, phone 800-444-4445 or visit www.hearstcastle.com
Save