5 fun kid-friendly excursions in Puerto Rico
Despite common belief, Puerto Rico is not just about piña coladas and hotel spa treatments. There are countless things to do outside resort walls for children and adults alike. In this article I would like to summarize some of my favorite activities—beaches, deserts, caves, rivers and a rain forest.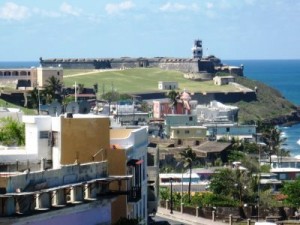 1.  Old San Juan
Viejo San Juan (as locals know it) is a 7-square-block area made of cobblestone streets and bursting with pigeon-filled plazas. Quaint and charming—it is more reminiscent of Paris than an old Caribbean Pirate port. Old San Juan is a perfect place to for an afternoon walk. Parks and plazas are situated around every corner and the area's not hurting for kid-friendly—but authentic—food. Head straight for El Morro, a fort surrounded by ginormous stone walls and cannons. Initially built in 1540, it's pretty much a maze filled with tunnels, dungeons, ramps and secret passageways. Bring spare change to buy a kite to fly on its vast grassy area, where kids can run free and you can savor the fabulous views of San Juan Bay.
2.   Ponce
Drive to the southern side of the island to find calmer waters—this half is on the Caribbean Sea, whereas the northern side is on the Atlantic Ocean—and a genuine feel for local living. Go to town square first, for the Old Ponce Firehouse and Museum (Parque de Bombas), a way-cool firehouse that's painted with bold red and black stripes (a surefire kids' attention-grabber). Hit it on a Sunday night and you'll be treated to a free concert, courtesy of the municipal band. After tromping around the firehouse, walk over to Ponce's boardwalk, aka La Guancha Paseo Tablado, for good local eats and a ferry ride to Coffin Island, which has gorgeous beaches and an old lighthouse.
Categories: Abacos, Caribbean, Puerto Rico, San Juan
Tags: Atlantic Ocean, Beach Vacation, Coffin Island, El Yunque National Forest, Family vacations, Old San Juan Puerto Rico, Puerto rico, San Juan, San Juan Puerto Rico, Shopping, sightseeing, travel, travel deals, United States