One of the stranger sights in a state full of oddities fills the Tularosa Basin, just west of Alamogordo, New Mexico: the world's largest field of gypsum sand dunes, blinding white and ringed by the San Andres and Sacramento mountains. The snow-coloured dunes cover 275 square miles of the Chihuahuan Desert, and are constantly changing as they are moved by the steady southwest winds.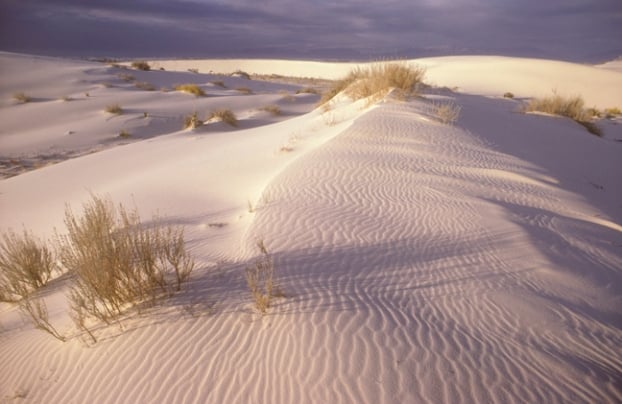 A large part of the dune field is a national monument, with a Visitor Centre and an eight-mile scenic Dunes Drive. Walk 10 minutes from the road in just about any direction, and suddenly all you can see are chalk-white dunes, some as high as 60 feet, mountains shimmering on the horizon and the blue bowl of sky. No wonder aliens chose nearby Roswell to visit. More adventurous visitors can hike farther into the backcountry to camp.
One of the best ways to see the dunes is by moonlight. The road is kept open for cyclists on one full-moon night in both the spring and autumn, when the dunes glow as if lit from within. (In summer, the park is open to cars until 10 p.m. and 11 p.m. on full-moon nights.) Since the monument is sandwiched between the army's White Sands Missile Range and the Holloman Air Force Base, strange shapes soar overhead quite often. Look for the distinctive black arrowheads of super-secret F-117A Stealth fighters, which saw action in the Gulf War and are almost invisible to conventional radar.
Another singular site awaits at the northern end of the missile range. At 5:29:45 a.m. Mountain War Time on July 16, 1945, the skies over the sand dunes were lit by a new sun, as the world's first atomic bomb test went off. The Trinity Site, marked by a stone tower, historical photos and the casing from the 'Fat Man' bomb (dropped on Nagasaki) is now open to the public twice a year.
Although most of the Trinitite—desert sand fused into greenish glass—is gone by now, visitors can stand on the very spot where Manhattan Project scientists from nearby Los Alamos ushered in the end of WWII and the beginning of the Atomic Age. Concerned about radiation? You receive twice as much during a typical airline flight from one coast of America to the other as you will during a one-hour visit here.