Nearly three decades ago, Auberge du Soleil, one of Northern California's most revered dining establishments, opened the doors of its inn, a handful of maisons scattered across a 33-acre hillside olive grove in Napa Valley.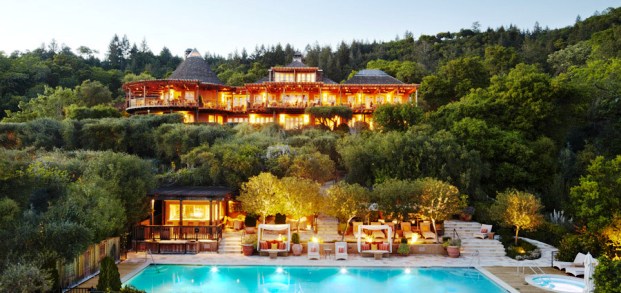 Terraced down the hillside with views of the Napa Valley, all accommodations at Auberge du Soleil feature Mediterranean-inspired decor with original contemporary art. All guest rooms, suites and maisons feature Italian linens, down bedding and duvets, Auberge du Soleil's custom-made bath amenities, plush robes and slippers and private outdoor terraces for relaxing or dining.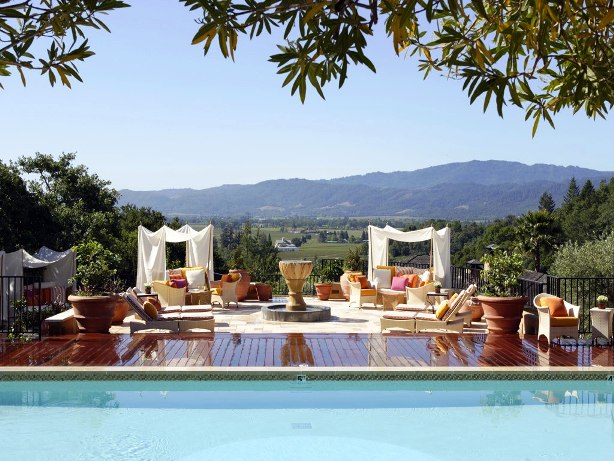 For many, the name Auberge du Soleil connotes cuisine first, with the inn of the same name a delightful afterthought. Indeed, Auberge du Soleil began as a restaurant created by visionary restaurateur Claude Rouas. Since then, the Auberge has maintained its legacy as a culinary destination, where innovative menus inspired by the bounty of Napa Valley are paired with wine in ways that delight and inspire longtime devotees.
The Auberge spa is a natural extension of California wine country's most luxurious country inn, Auberge du Soleil. Built for the exclusive use of the inn's guests, The Auberge Spa occupies a 7,000 square feet stucco building, overlooking the Napa Valley. It embraces a nurturing philosophy embodied by a unique menu of body and facial treatments, which utilizes natural ingredients indigenous to the region.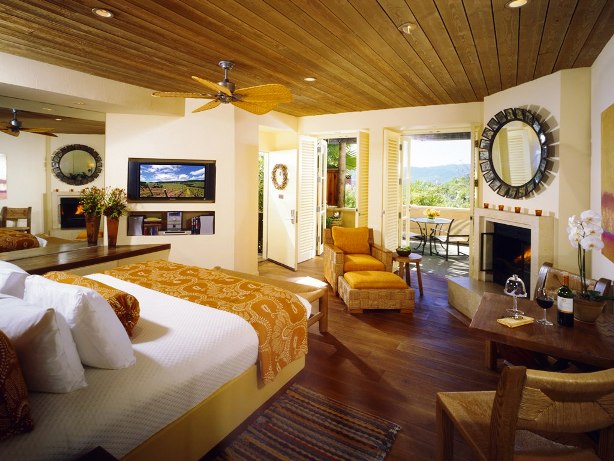 The 52 rooms in both a main house and cottages are inspired by the Côte d'Azur, with terra-cotta and orange accents, tiled floors, limestone countertops, and matelassé bedcovers. Two spacious maisons feature outdoor hot tubs on private patios and steam showers for two. Every room has a full wet bar, complete with top-shelf liquor and homemade mixers; bathrooms are stocked with everything from shaving supplies to Dr. Hauschka bath oils and an "intimacy kit." Regional ingredients—grapes, herbs, flowers, olive oil, and mud—are used in the signature treatments of the guests-only spa (some, such as lemon verbena, come from the hotel's herb garden).
The private Gardens, outdoor pools and the beautiful fountains attempt to take you to a different world for a calm, rejuvenating and romantic experience. Stay at Auberge Du Soleil and take back the memories of living in a world of tranquility, peace.
The Auberge Spa, which also draws on the land, offers treatments based on grapes, olives, herbs, flowers, mud and minerals. The 15,000 bottles in the wine cellar will inspire the discerning wine connoisseur as they watch the sun setting on the horizon.
The pleasures of escape, total privacy, and the intimacy of having a beautiful spot to share are part of the timeless allure of Auberge du Soleil.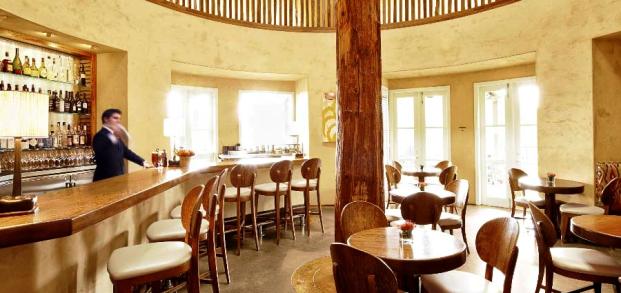 Auberge du Soleil Resort
180
Rutherford Hill
Road
Rutherford, California
707-963-1211
http://www.aubergedusoleil.com/