Barca: F.C. Barcelona and Camp Nou
Barca, the colloquial name for Fútbol Club Barcelona or F.C. Barcelona, is known and respected throughout the world as one of its premier teams, and is one of only three never to have been relegated from the Spanish La Liga. It is one of the most famous football teams in Europe, second in Spain only to Real Madrid. In fact, according to the official statistics it was the most successful team worldwide between the years of 1991 and 2014.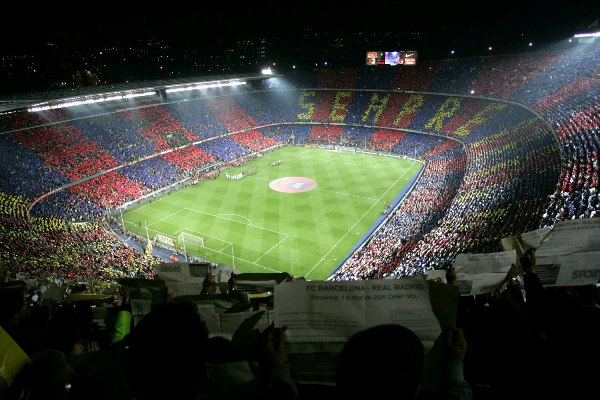 The club plays out of the Camp Nou stadium (Nou Camp to foreigners), in Avinguda Aristides Maillol, s/n, 08028, Barcelona. It is only 13 Km from the El Prat Airport, and the 5 mile journey from the city center can be taken using the metro (Line 5 from Collblanc or Badal and Line 3 from Les Corts or Maria Cristina). You can also get there by bus, using lines 7, 15, 43, 67, 68, 74, 75, L12, L50, L60 & L62. The official name of the stadium is the Nou Estadi del Fútbol Club Barcelona.
Originally, the first permanent pitch for the club was at Les Corts, but it soon became apparent that the success of the club and its increasing following would necessitate a new stadium. There followed a period of argument and discussion as to its new site, which was eventually whittled down to two realistic choices: a site near the top of the Diagonal that was in the process of redevelopment or a site the club had purchased in 1950 at a place known as La Maternidad. Ultimately, La Maternidad was chosen and construction took three years, from 1954 – 1957.
Barcelona F.C. is a very rich team in comparison to others in Spain and even in Europe, regularly competing in the Champion's League that is open only to the top European teams. It owns its own newspaper and magazine, and also runs a TV channel and radio station.
Categories: Abacos, Barcelona, Europe, Spain
Tags: Barca, Barcelona, Collblanc, FC Barcelona, Fooball Stadiums, Futbbol, La Liga, Leo Messi, Lionel Messi, Nou Camp, sightseeing, Soccer, Spain