Barcelona's Tibidabo Amusement Park
The journey to Tibidabo amusement park starts with a short train ride from the center of Barcelona from there you will take the Tramvia Blau which takes you half way up the mountain. If you wish to go all the way to the top of Tibidabo, where the amusement park is situated, you will also need to catch a funicular train from the half way point. Once at the top of the mountain you will be rewarded with magnificent views of Barcelona, an amusement park for the kids, and the opportunity to visit a beautiful church at the very summit of the mountain.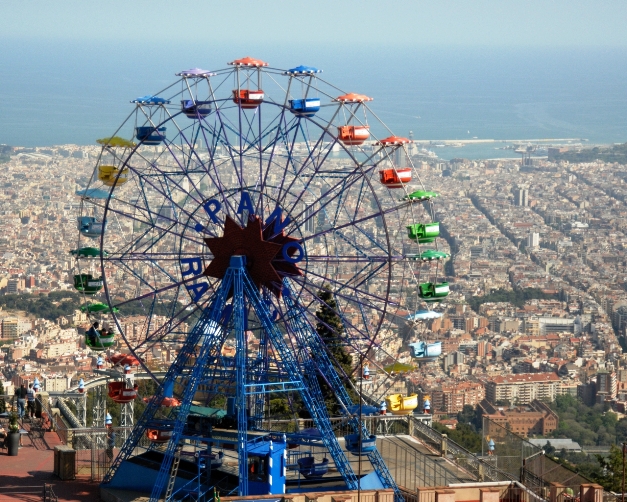 Most travellers then continue up the mountain on the Funicular de Tibidabo. This is also an entertaining journey as you travel up through the mountain's forests and to the summit and get a glimpse of the city from a height on your way. The funicular runs in conjunction with the opening times of Tibidabo theme park (more information can be found on their website Barcelona Tibidabo Amusement Park
If you do choose to continue to the top, both kids and adults will enjoy the charming little theme park. It was built in 1889 and a lot of the rides date back to this time, giving the park a whimsical feel. Don't expect any bare-knuckle rides, but the views and friendly atmosphere, with people in fancy dress parading through the park and interacting with the visitors, make for an enjoyable day out.
The ticket booth is immediately in front of you on leaving the funicular. You can buy a day ticket, which is quite pricey- adults cost €25.20, children below 120cm in height cost €9.00 and children below 90cm are free (it is worth checking the website as there are special prices for seniors, disabled people and school pupils).
Categories: Abacos, Barcelona, Europe, Spain
Tags: Adventure Travel, Amusement parks, Barcelona, etraveltrips, Historical site, Museums, Spain, travel